Price Monitoring Tool for Shopping Advertisers Released
Imagine being able to analyse the prices of your competitors and optimise your shopping campaigns accordingly. Well, imagine no more! Producthero has launched the first price monitoring tool that does just that. Producthero Pricelizer combines competitor pricing analysis with shopping ads data and optimization tools. This is an invaluable resource for any business looking to stay ahead of the competition.
Producthero was built with one goal in mind – to make sure our customers have a competitive edge in an ever-growing and changing ecommerce market. We're excited to offer businesses an easy-to-use tool that provides real-time insights into how their prices compare to those of their competitors. Our team has put a lot of work into making sure it provides the most comprehensive and actionable competitive analysis available.
With this new launch, Producthero is strengthening its position as a leading player in the e-commerce industry. It provides business owners and online marketing specialists a full stack of tools to boost the performance of their product advertising.
The importance of pricing analysis
In today's market, it is essential for merchants to keep a close eye on their competition.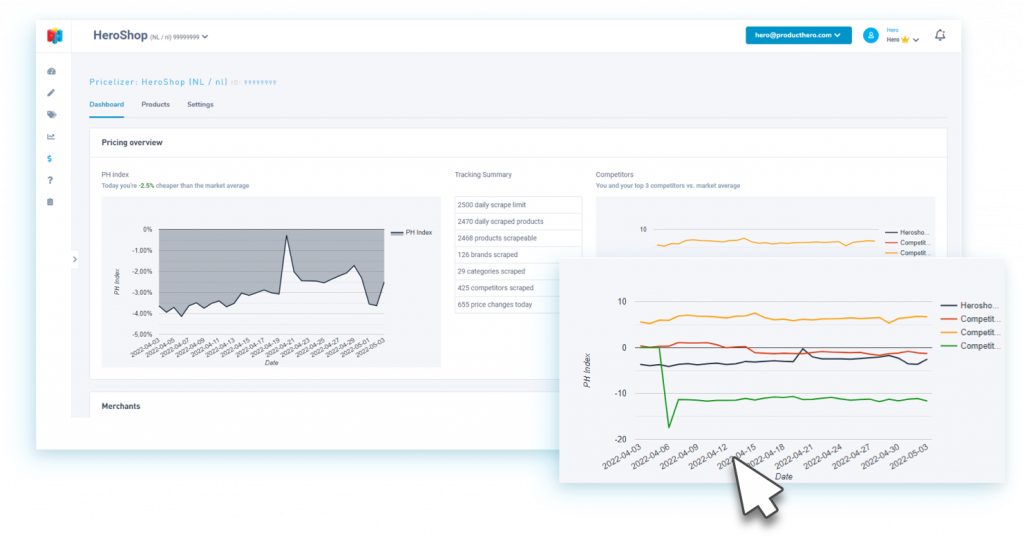 Price competitiveness is an important success factor for Shopping campaigns in Google Ads. With competitors constantly changing their prices, we experience that it is difficult for businesses to keep track. Pricelizer provides detailed competitor pricing data and combines it with Shopping Ads performance data. This combination allows businesses to stay ahead of the curve and ensure they are getting the best possible results from their product advertising.
Producthero Pricelizer offers a variety of features, including pricing analysis, tracking competitor developments and relating price to product performance. The data can be exported easily, which makes the imaginable use cases limitless!