Last updated on May 26, 2023
CASE: How Badmeubelnet increased its revenue from Google Shopping Ads by 61% for the bathroom furniture product category
About SDIM
Digital Agency
Supports small and large organizations such as Rode Kruis, Feenstra, Badmeubelnet and Koter Kado
Headquarters in Haarlem, Netherlands
sdim.nl
About Badmeubelnet
Showroom and online webshop for bathroom furniture with a unique offering
Sales of both imports and their own house brand 'The Bathing Factory'
Smart purchasing and therefore competitive prices for high quality sanitary ware
Own photo production to distinguish online and direct delivery from storage
Headquarters in Uden, Netherlands
badmeubelnet.nl
Approach
Full-service online marketing: from strategy to implementation
Use Producthero Premium CSS for e-commerce organizations
Optimize campaign structures through Producthero Pro
Goals
Return-On-Ad-Spend (ROAS) target of 357%
Results
A 59% increase in conversions and a 61% increase in sales. And also achieved a ROAS of 475%.
3rd May 2023
"When we started working with Badmeubelnet, we set a ROAS target of 357% for the bathroom furniture product category. With clients, we always question how they set their target, in order to set clear goals that lead to profitable campaigns. For example, have product margins, return rates and reinvestment rates to achieve new sales been taken into account? For this, their founder, Emiel Hoogendoorn had a clear explanation and good analysis. Then we started working on the strategy and campaign structure."
Mike Karregat, Digital Advertising & Data Specialist, SDIM Online Marketing.
When e-commerce organizations join SDIM, they are offered Producthero CSS. Due to its low cost, this is a logical step for almost every webshop as they will reduce CPC costs by 20%. To make an even bigger impact, SDIM's paid ads specialists analyze where they see further optimizations. To achieve this, at Badmeubelnet, Mike Karregat removed some of the high-performing products from the campaigns to place them in separate campaigns. This produced good results but required manual actions. By deploying Producthero Pro, he was able to further improve this process while avoiding spending unnecessary manual hours.
When setting up the Labelizer campaign with Producthero, the choice was made to add a part of the product range. Then these products were divided into three categories, the Heroes (best-performing products) & Sidekicks (good-performing products), Villains (worst-converting products) and Zombies (products with low impressions).
| | | | |
| --- | --- | --- | --- |
| | 1 Jan. to 2 May 2022 | 1 Jan. to 2 May 2023 (Labelizer approach) | Difference in % |
| Costs | € 20,700.00 | € 30,881.46 | +49.19% |
| Conversions | 211.11 | 336.37 | +59.33% |
| Revenue | € 90,800.00 | € 146,552.28 | +61.40% |
| ROAS | 438.65% | 474.56% | +8.19% |
The results of the new structure showed the success of the Labelizer. Because it advertised more efficiently, the number of conversions from Google Shopping Ads increased by 59.3%. This led to a 61.4% increase in sales from this channel. Although advertising costs also increased, a ROAS of 474.6% was achieved. This means that there is even room for further investment, and thus growth. In addition to the positive figures, Emiel Hoogendoorn, founder of Badmeubelnet, also saw that the stock of products that used to have a high inventory shrinked.
In addition to adjusting the campaign structure, SDIM also used Producthero to optimize the bathroom furniture product titles based on its own search term research and suggestions from Producthero. For title suggestions, Producthero uses ChatGPT, among others, to make suggestions.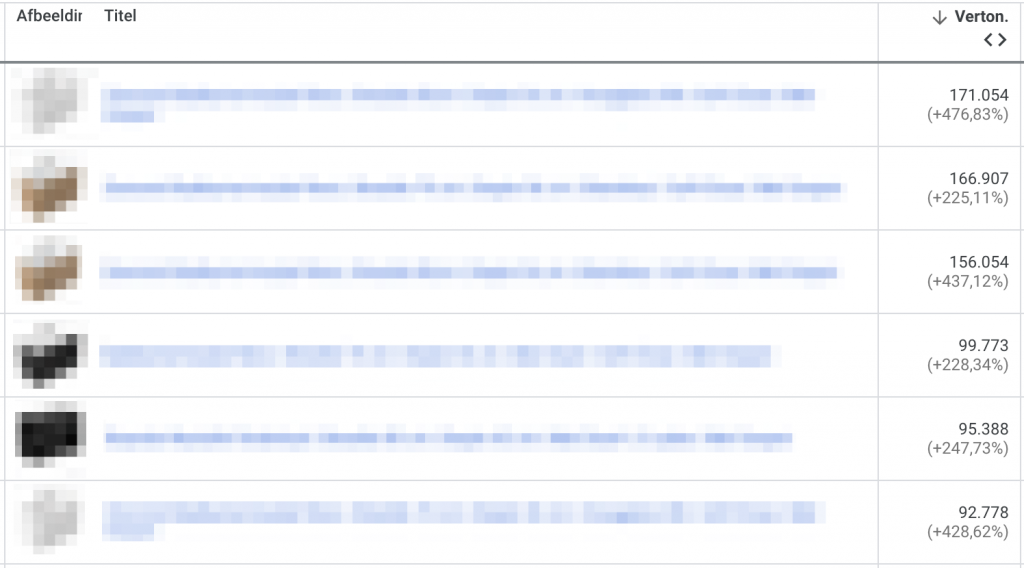 "With the title optimizations, we can create so much more volume, which is why I deploy it with other e-commerce clients as well. The advantage of the Producthero Optimizer is that you can immediately see the product performance and search volume. This allows you to prioritize the best performing products in the optimization process. It's also nice that you can make bulk adjustments for products in a certain category, this also keeps the momentum going. Because the supplemental feed is already configured you can also optimize the short titles right away." Mike Karregat, Digital Advertising & Data Specialist at SDIM Online Marketing.


"At SDIM, paid advertising specialists are trained in each channel. This allows us to fully support and advise clients like Badmeubelnet at a strategically high level. Our e-commerce project group has specialists from various departments in the areas of CRO, Marketing Automation, SEO and SEA. This composition puts us at the forefront of innovations in digital marketing and e-commerce. Because we use customer satisfaction as the most important KPI internally, we continuously ensure that our clients grow profitably, from small to large companies."
Mike Karregat, Digital Advertising & Data Specialist, SDIM Online Marketing