Last updated on July 07, 2023
Google Free Listings and CSS Partners
Google Free Listings are a great way to get free traffic to your products. To include your products in Google Free Listings you need to have a Google Merchant Center. But what if you advertise via a Google CSS Partner? No problem, you can use your CSS partner Merchant Center to add your products to the free listing. In this article we explain how it works and how you can manage this.
In this article we will discuss:
1. Introduction: Google Free Listing
You can find the free listings on the Google Shopping tab. Besides free listings, the shopping tab also holds paid results (shopping ads):
Both paid and free listings get the product data from your Merchant Center.
If you work with a CSS Partner (like Producthero CSS), the CSS partner Merchant Center can be used for both the paid and free listings.
2. Check if you are showing in free listings
How can I check if my Merchant Center serves my products in Google Free Listings?
There are several places you can check if you Merchant Center is active for free listings:
On the Overview tab:
A summary of the Free listings diagnostics is added to the Overview tab (in the left sidebar menu) in your Merchant Center:
Products overview:
You can also check your the Products > All products in the Merchant Center. For each product you can find if it is active in the Free listings:
What if I have multiple Merchant Centers for my domain (multiple CSS-es)?
By default, the CSS with most uploaded products is automatically selected.
To explain the situation of multiple CSS-es: It can be the case that you have multiple Merchant Centers with multiple CSS-es. For instance if you have kept your Google Shopping Merchant Center and got a new Merchant Center from a CSS partner. You can even have Merchant Centers for your domain that you do not have access to or that you do not even know of. In that case a CSS is running shopping ads for you with their own campaigns. For instance with an affiliate feed (we would never do that! read more on how you can find out if there are CSS partners advertising for your shop in this article: What?! A CSS is advertising on behalf of me with PLA's).
Can I choose which Merchant Center I want to use for Free Listings?
Yes. In case there are more than one CSS-es for your domain, you can choose which one you want to use for Free Listings. You can switch to another CSS at any point via the CSS dashboard (see next question where to find it).
Where can I find the CSS dashboard to manage the settings?
OK, so this is the tricky part. You can find the CSS dashboard only in a Merchant Center Account that is under Google Shopping CSS, where you have claimed your website (under 'Shopping ads setup'). Maybe you have a Merchant Center under Google Shopping CSS, but chances are high you have switched that Merchant Center to Producthero CSS. In that case you need to create a new Merchant Center under Google Shopping CSS and claim your domain, because:
Controlling which CSS can advertise for you and which CSS you want to use for Free Listings can only be done in a Merchant Center under Google Shopping CSS. Please take the following steps to manage which Merchant Center / CSS is used for free listings:
3. Manage which Merchant Center is used for Free Listings
If your products are disapproved and you do not have an extra Merchant center under Google Shopping CSS, create one first (Step 1). This is the only place you have the ability to change the settings for your domain. If you already have a merchant center under Google Shopping CSS, start at Step 3.
Step 1. Create a new Merchant Center under Google Shopping CSS
Go to merchants.google.com. Instead of logging with your Google account, create a new Merchant Center account.
You need a Google account that is not yet linked to a Merchant Center to do this. If you do not have one available you can create a gmail account. Once you have created the new Merchant Center you can add your other Google account(s) as admin user.
You do not need to configurate or add products to this new Merchant Center. Its only purpose is to have control.
More about creating a new Merchant Center
Step 2. Claim your domain
Make sure you claim your domain so Google knows you are the owner of the domain.
Click the Tools icon and choose Business information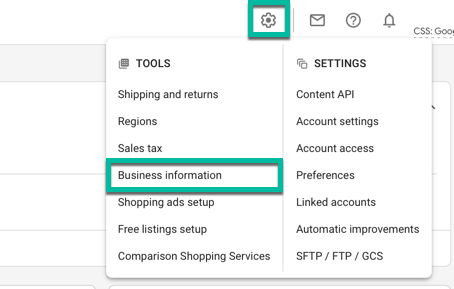 Choose the WEBSITE tab:
This is where you can claim your domain.

Good chance you will get the yellow notification like in the screenshot below. Do not worry, this is a bug in Google's system. You can safely continue to claim your website URL without having to worry something will happen to you Producthero Merchant Center.
Once it is done you see this on the website tab:
You will also receive an email about that the Website URL claim is lost in your Merchant Center account:

This email is a bit misleading, so do not worry. Your Merchant Center is fine. Your products will not get disapproved. A CSS partner Merchant Center does not need a URL claim, so your Producthero Merchant Center will keep functioning as usual.
Step 3. Set Producthero CSS for Free Listings
In your Google Shopping CSS Merchant Center go to the Tools menu and select Comparison Shopping Services.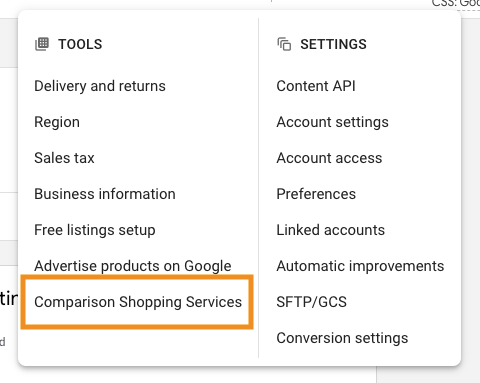 You will be redirected to the Comparison Shopping Services-tab. If you want to use your Producthero Merchant Center for Free Listings, it needs to be selected, like in the screenshot below.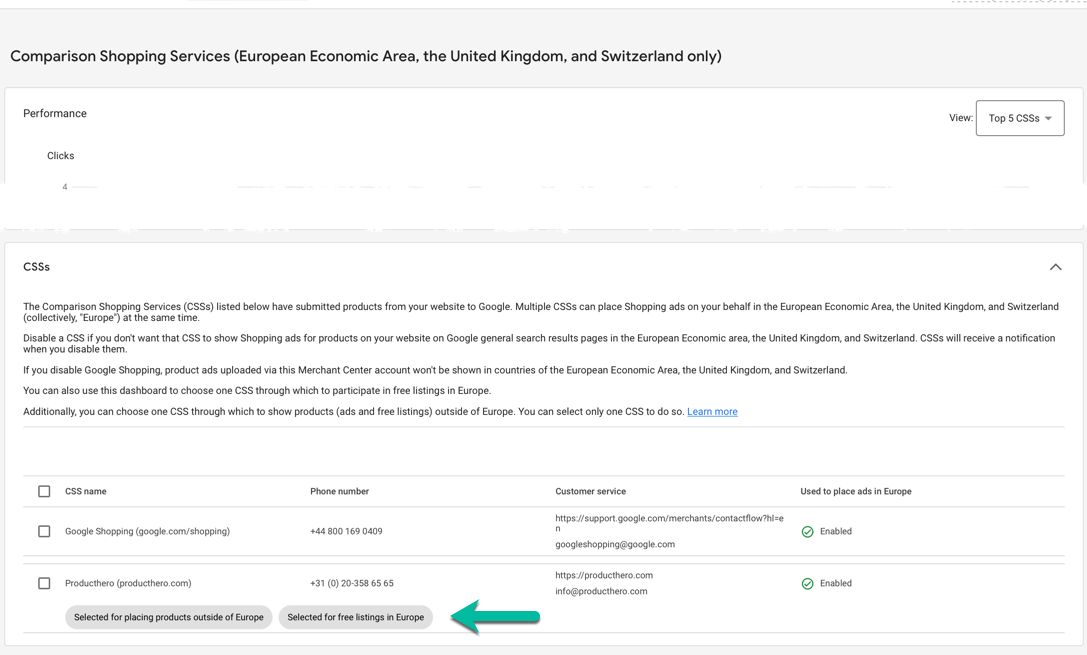 If it is not selected, or you want to change it, go to your Merchant Center and:
Go to "Your Business"
Go to Edit online store and Claim + verify your website url
Navigate to Comparison Shopping Services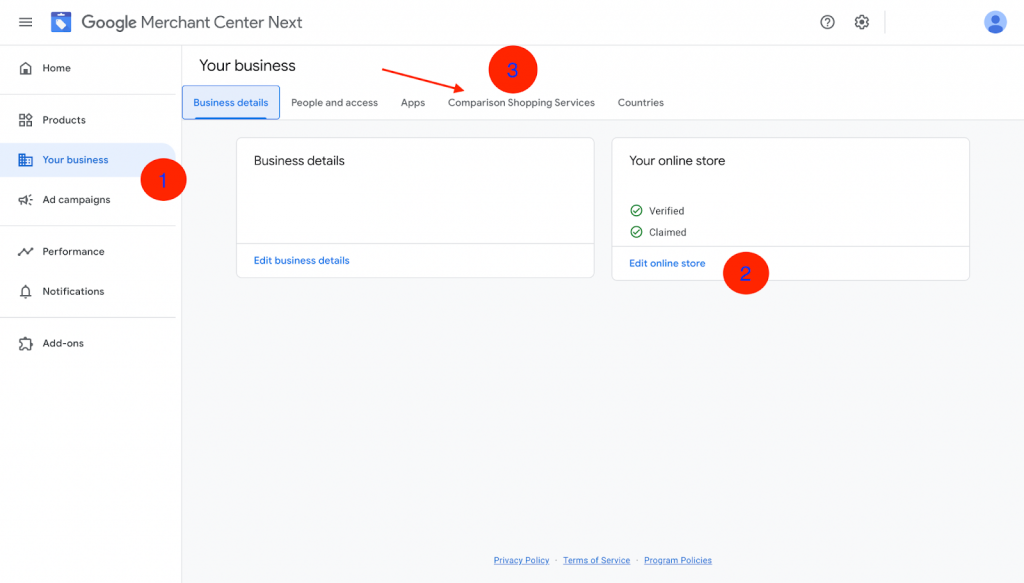 Scroll down and hover over the Producthero row. At the end of the row a 3-dots icon will appear. Click this to change the settings (where the arrow points in the screenshot below).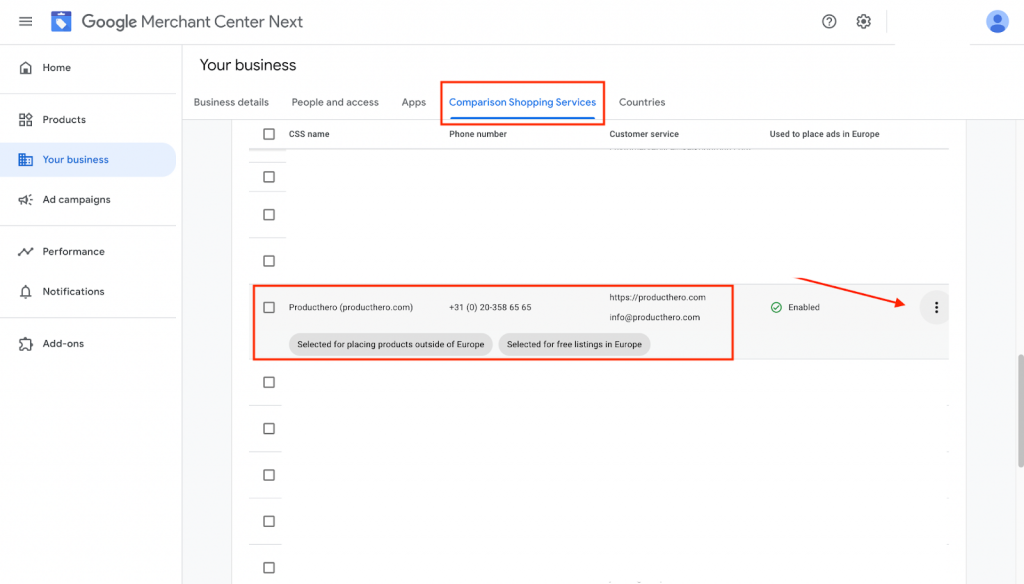 The following options appear:
Click "Make this the CSS for free listings in Europe" and you are all set!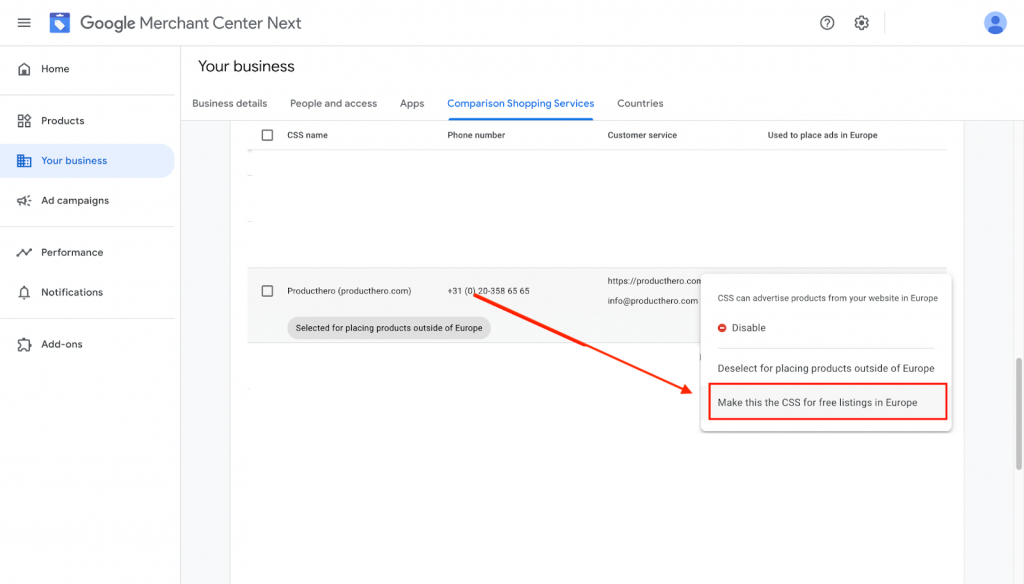 If the "Make this the CSS for placing products outside of Europe" option is also available and you want to use your Producthero Merchant Center for that you can also select this option as well. With the next product update in your Producthero Merchant Center you will see that your products are approved for free listings (can take up to 24 hours).