Last updated on November 27, 2023
Prepare your Shopping ads for Peak Season in 2023
Now that autumn is here, Peak Season 2023 comes with it. That is the moment for e-commerce and retailers to shine. It is the late period in the year when we have concentrated sales days, with Single's Day, Black Friday, Cyber Monday and Christmas as key dates (see image below).
In this article, we go through 6 trends in 2023 to make your Shopping ads stand out during these months of fierce competition. Plus, we discover the most searched products during the holiday season.
Image source: CSS Spotlight 2023.
When should you start advertising in peak season for 2023?
In 2023, Black Friday falls on Friday, 24 November. Following closely, Cyber Monday, which typically falls on the Monday after Black Friday (in 2023, it will take place on Monday 27th November). Single's Day is often seen as the official kickoff of this peak season, always falling on November 11th (11/11) but when do people start doing research and showing interest in purchase?
According to Google, "Black Friday research starts weeks before the actual day in November, beginning in early October as people start looking for deals." (see image below). Thus, we can say that at the moment of writing this article, Peak Season has already started and your ads should be ready to rock, so we recommend starting to make the necessary adjustments to your campaigns and applying the trends we describe in this article.
Image source: CSS Spotlight 2023.
6 trends to attract more customers with your Shopping ads during Peak Season
Google Shopping is responsible for 70% of online advertising sales generated by Google Ads, which makes it one of the best channels to advertise your products for Black Friday and any other peak sales periods. However, as competition is extremely fierce, creating quality ads that stand out is crucial. Let's dive into 2023 top trends to make your Shopping ads more competitive:
Use sale price annotations and specify shipping:
According to Google, in 2022, shoppers were +24% more likely to wait to buy gifts until they went on sale. Thus, promotions and sales play a key role in customers' decision-making and when differentiating your products.
1.1 [Sale_price] attribute:
By submitting the [sale_price] attribute through the product feed, several elements might show in your Shopping ads:
Crossed-out price: as you also need to include the [price] attribute, both the base price (with a strike-through) and the sale price will show, allowing users to see the amount they are saving. Plus, in case of showing, the sale price will be displayed in green, which can be attractive for customers as this colour is commonly associated with an invitation to take action.
On sale label: if showing, the Shopping ad will also have a "sale" label on the left top corner. This will highlight that the product is selling at a lower price.
Next to the [sale_price], it is also advisable to use the [sale_price_effective_date] attribute, which allows you to set your promotions in advance, as the review process may take at least 48 hours during busy periods.
1.2 Price drop badge: when significantly lowering the price of your products compared to the price you listed in the past, Google can show the "Price drop" badge. Next to it, the shopping ad will show the previous and current price of the product. You can see some examples below: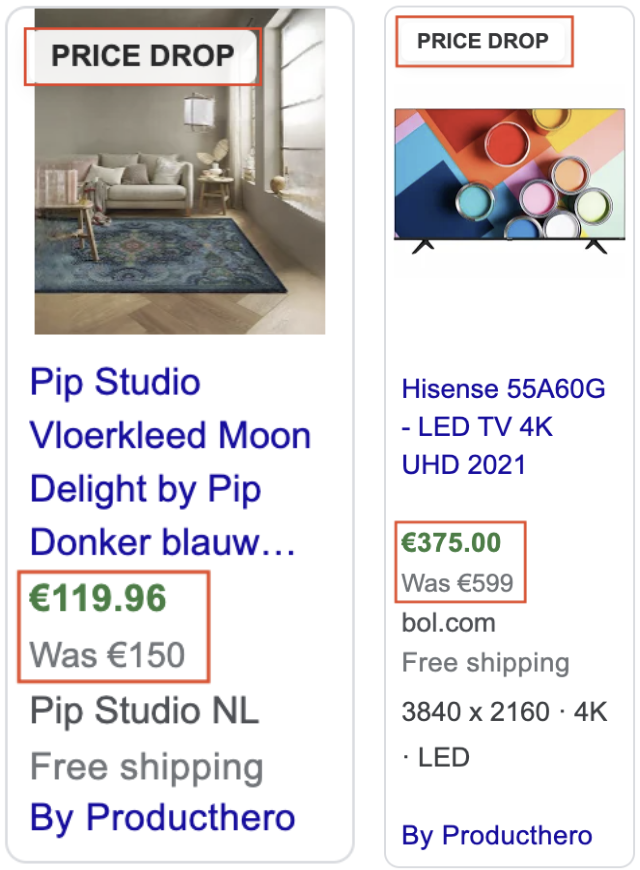 1.3 Free Shipping:
To define the shipping parameters for your products, you have two options: you can manually configure this by using the shipping settings of your Merchant Center, or if you prefer, you can also use the [shipping] attribute to configure the shipping cost and delivery time for each of your products.
When determining the shipping details of your products, it is important to consider that a survey conducted by Financesonline revealed that 49% of buyers were influenced by free shipping when purchasing during Black Friday.
Therefore, during Peak Season, you might want to consider offering free shipping for your products to make your ads more competitive.
When you set up shipping in your Google Merchant Center, the ad will automatically show the "Free Shipping" annotation if that is the case for your product.
Optimize your Shopping feed:
Your feed provides Google's algorithm with the necessary data to show your ads to the most relevant queries. Thus, optimizing your titles, images and descriptions will increase the odds of your ads showing when the chances of conversion are higher.
Next to this, you can include seasonal keywords to increase the chances of your ads appearing when users are looking for products related to a particular season or event. For example "Christmas jumper", "Christmas handsoap" or "Winter blanket".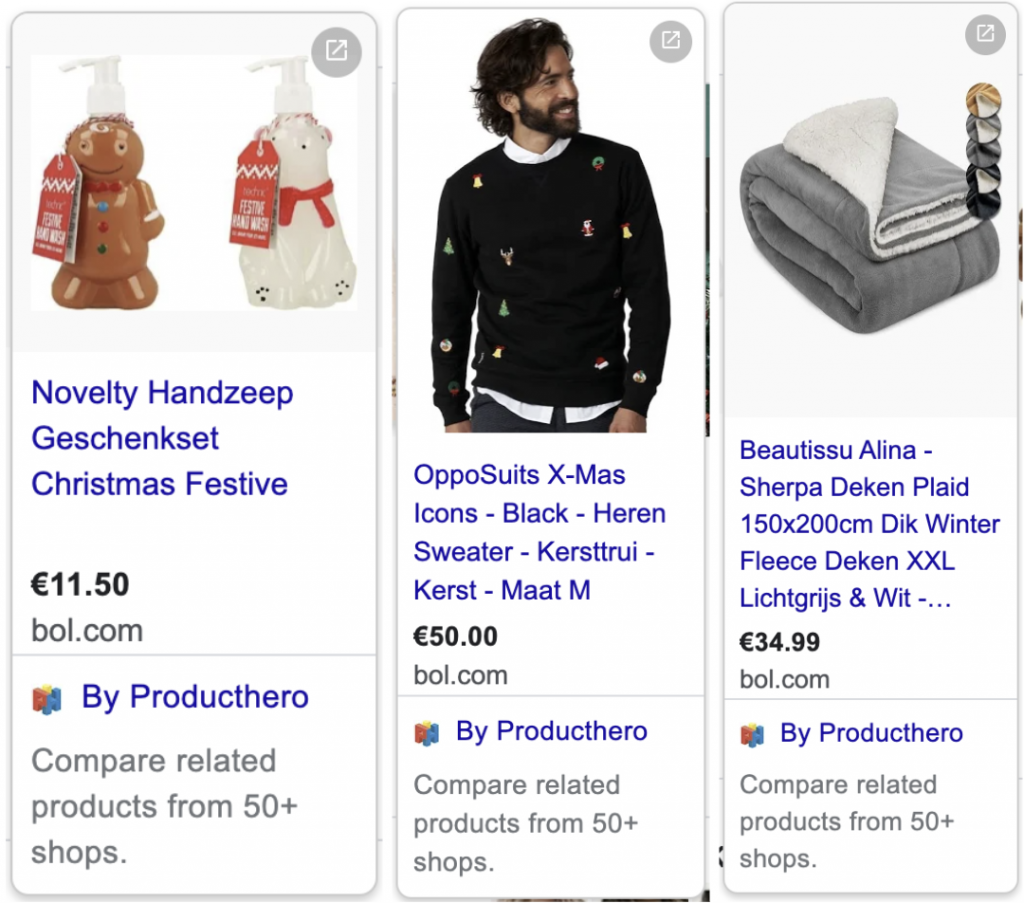 With Producthero's title optimization tool, you can identify those products whose titles can be optimized by filtering by title status and get AI suggestions to quickly add keywords to your titles by simply clicking on the suggestions or dragging and dropping them to the title field.
Note: we recommend starting by optimizing those products that are labelled as heroes and whose titles are 'short' or 'poor'.
Plus, if you are using Producthero PRO, you can also edit your titles in bulk, saving you lots of time in cases like adding seasonal keywords to certain products.
Prepare your website or app for peak season
During Peak Season, the attention must not only be on your Shopping ads but also on the user experience provided by your website or app.
While a compelling and optimized ad can draw potential customers in, the journey towards conversion can be negatively affected if customers encounter an unpleasant experience on your website or app. Thus, you have to ensure that your website or app offers a smooth and seamless experience, from intuitive navigation to an attractive design and optimal loading times.
Lastly, to maximize the impact of your advertising efforts, you should also consider including offer banners with a clear call to action (CTA) for the peak season and value proposition on your landing pages. Below you can see some examples of banners that meet these conditions:
Source: Sephora
Source: Select
Use Local Inventory Ads to drive store traffic
According to Google, 65% of holiday shoppers shopped in-store this past holiday season. Plus, over the past five years, a global comparison of search terms "near me" and "online indicates a growing consumer interest in getting things done locally in addition to sustained interest in doing so online.
For this reason, enabling Local Inventory Ads (LIA) in your Merchant Center is a great option to let potential customers know that they can also find the product they are interested in in your physical store. This can greatly influence customers' decision-making as 59% of consumers like to visit stores to see or touch products even if they plan to buy online.
Local Inventory Ads allow you to highlight your store availability or pickup options with features like "In store", "Pick up today", "Pick up later" or "Pick up tomorrow".
Segment your products before peak season
Last but not least, to maximize the effectiveness of your campaigns during Peak Season, we recommend creating a separate Performance Max campaign (a Boost campaign: learn how to create such a campaign in this article) for those products you want to prioritise. This will "force" the algorithm to show these products to potential customers.
Additionally, you can also create a different campaign for seasonal products that are in demand only during specific times of the year, such as Christmas decorations, Halloween costumes, and similar items.
We suggest starting your boost campaign not immediately before Black Friday but a bit earlier, allowing it to start gathering data as early as possible.
Note: Ensure that you exclude your boost/seasonal products from your labelizer campaigns to prevent cannibalization.
Schedule your campaigns before and after peak moments
To maximize your advertising impact during the Black Friday weekend, it's crucial to plan your ad schedule. Start by setting your ad campaigns well in advance of Black Friday, ensuring they run smoothly from the days leading up to the big event.
As Black Friday itself arrives, be prepared to adjust your ad schedule based on real-time performance data, emphasizing peak shopping hours. And don't forget, as the clock strikes midnight at the end of Black Friday, immediately shift your focus to Cyber Monday. Launch your Cyber Monday campaigns on Saturday for a seamless transition and to catch early-bird shoppers eager for online deals.
This strategic approach will help you make the most of the entire Black Friday weekend and ensure your brand's success during these key shopping days.
Additionally, it might be tempting to reduce the advertising efforts after Cyber Monday, assuming that most of the shopping events are over. However, 46% of shoppers think the deals are better after the holidays than leading up to them. Besides, they are most likely to self-gift after December 25.
For this reason, we also recommend keeping your Shopping ads running after Cyber Monday to appeal to latecomers.
What are the most searched products during Peak Season?
When identifying those products with more searches during Peak Season we must differentiate between Single's Day, Black Friday and Cyber Monday on one side, and Chrismas on the other side.
Single's Day, Black Friday and Cyber Monday:
If we go to Statista and take a look at the most searched items for Black Friday worldwide during 2021, we can see that all the top searches are electronics. These seem to be great presents or have good discounts.
Christmas products
Regarding Christmas, if we focus on the UK, we can find electronics, toys and apparel among the products that are most searched.
However, this varies between countries due to consumer trends and many other factors.
Unlocking Success in Early-Bird Shopping: Preparations, Trends, and Optimization Tips
To attract early-bird shoppers, starting advertising preparations in advance is crucial. In this article, we have discussed trends like sale price annotations, specifying shipping, and the use of "Price drop" badges, which all influence buyers.
Optimizing your Shopping feed with seasonal keywords and user-friendly websites is key. Additionally, Local Inventory Ads (LIAs) can help bridge the gap between online and in-store shopping.
Finally, schedule your campaigns and adjust them according to real-time performance data to make the most of these shopping days.