Hero Conf London 2022 in review: the state of the PPC industry and of course… Performance Max
It won't be a surprise that the changing PPC landscape and Google's game changing new campaign type Performance Max was the talk of the town at Hero Conf London 2022. 
Hero Conf in London, is one of the biggest  PPC (Pay Per Click) conferences in Europe. The 2-day event (July 18-19, 2022) was packed with specialists and in-depth presentations.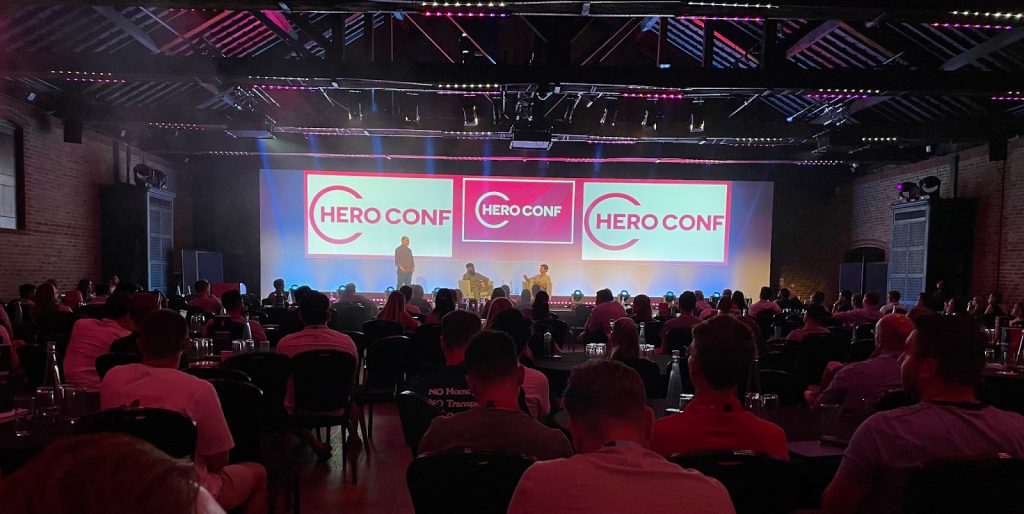 Google's Performance Max definitely has everybody's interest. A generic talk by Hillary Gillis (Outshine) about how PMax actually works should have gotten a bigger room. It was a full house, with people sitting on the floor and standing at the back of the room.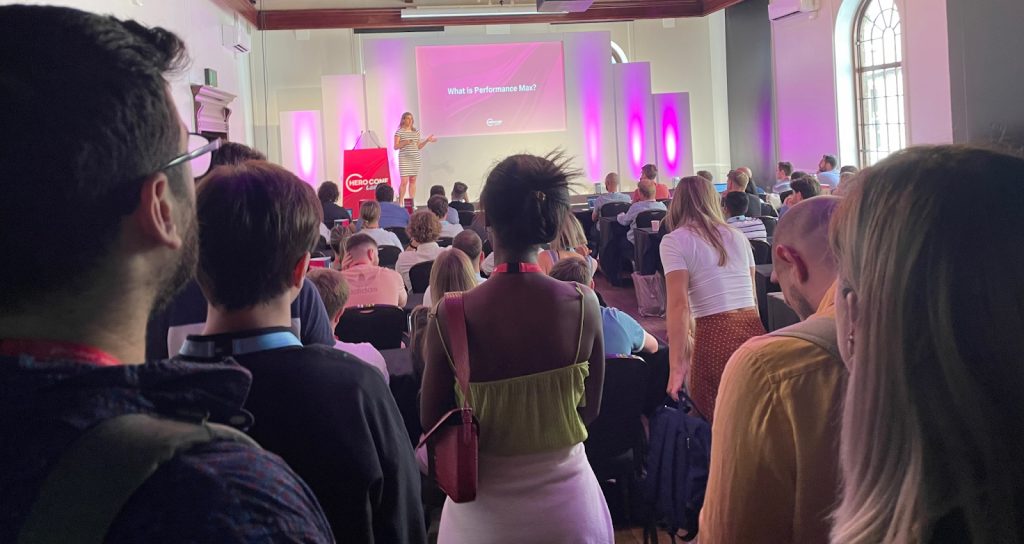 Many presentations touched upon Performance Max – It was striking to see how some specialists present the possibilities and opportunities with enthusiasm, while others talk about how to fight back using "old-school" methods.
How do PPC specialists like pMax?
A funny measure of the sentiment around PMax campaigns was a sponsor handing out free t-shirts while giving the visitors 2 options: a shirt with "I 👍 PMAX" or a shirt with "I 👎 PMAX".
They were out of 👎 shirts and were stuck with a pile of 👍 shirts on the second day.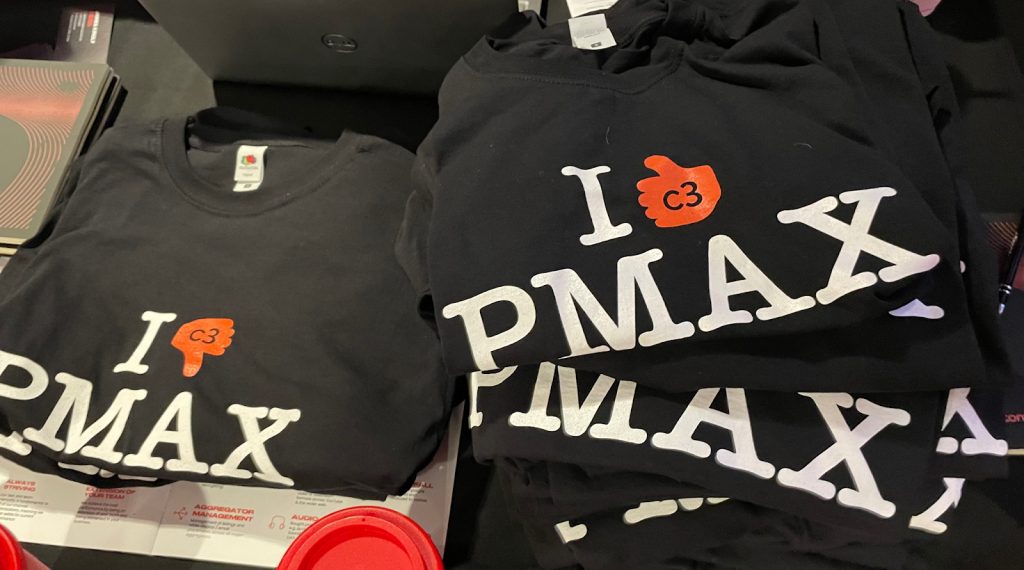 At one point, when a presenter asked the audience, 'what are your experiences with PMax?', responses from the audiences were "mehhh". It also became clear to me when talking to people during the breaks and drinks, that results are still varying between advertisers.
It made me think of the time when Smart Shopping was introduced. Back in 2018 it took this campaign type also a while until it performed as it does now. And PPC specialists also needed to get used to control and insights taken out of their hands.
History repeats, because that is exactly what's going on right now. A study presented by Ashley Fletcher (Adthena) showed that lack of transparency and lack of control is by far the biggest issue advertisers experience. Adoption is high though, but experiences are not that good yet in many cases.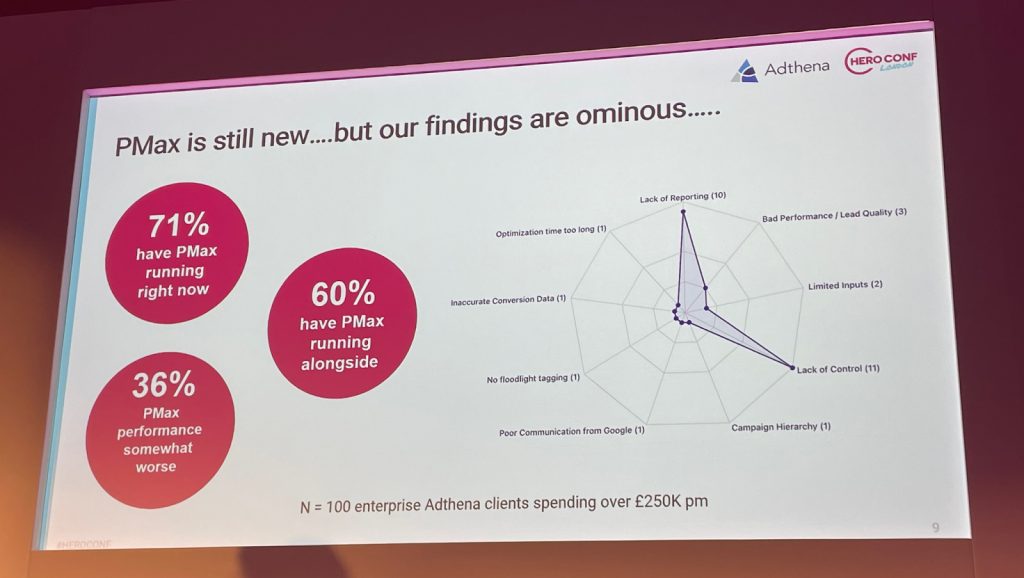 What's important in this future of automation?
Going through all presentations and insights, I summarised the 5 most important skills to be successful in this new era ushered in bij Performance Max campaigns:
Usage of 1st party data
Creating and optimizing great campaign assets
Optimize conversion data
Create the right campaign structure
Set the right goals
Let's dive into them:
1. Usage of 1st party data
Important part of Google's keynote by Ian Turner (Google). First party data is a crucial part of success.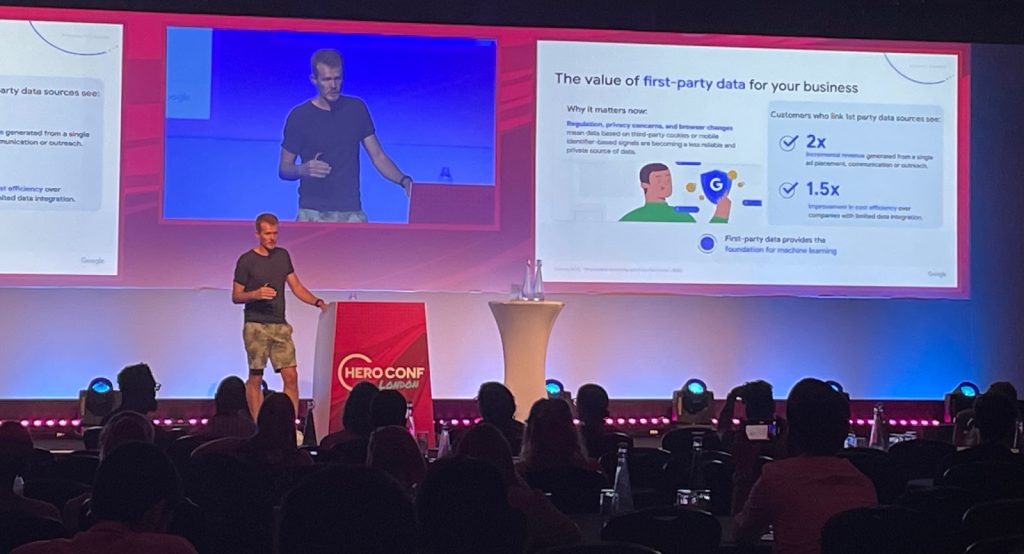 2. Creating and optimizing great campaign assets
Elizabeth Clark (Dream Agility) explained why your feed is your friend when using Performance Max. She showed several cases of how optimizing the relevance (feed title, description, attributes) resulted in a great boost in relevant visibility, and therefore performance. 
3. Optimize conversion data
Several presentations touched upon the importance of feeding campaigns conversion data that is better aligned with business goals. A clear explanation of the importance of this part was by Irene Ehrengruber and Mike Ryan (Smarter Ecommerce (smec)).
In the current economic situation the call for profit measurement gets more important.
Next to that there is a "click versus bought' phenomenon. In many cases the product clicked was not the one that was bought.
Advertisers need to go from:
Product based return on ad spend (ROAS) to Order based profit on ad spend (POAS)
Other presenters (like Rob Watson) went into the importance of taking extra costs (f.i. Shipping, handling), returns. 
Not to forget Lifetime Value (LTV) of certain orders, audiences. Several presenters mentioned how conversion value rules are the new bid modifiers.
4. Create the right campaign structure
One of the best explanations of how campaign structures can help you achieve better control was by Sam T. (Warschawski): 
Google's goals are not your goals. The sooner you accept that, the happier you will be.
Campaign structure is the primary way in which advertisers can express their priorities. Data is very important in this process. You have data Google doesn't have.
He explains why exclusions are more important than inclusions when automation increases.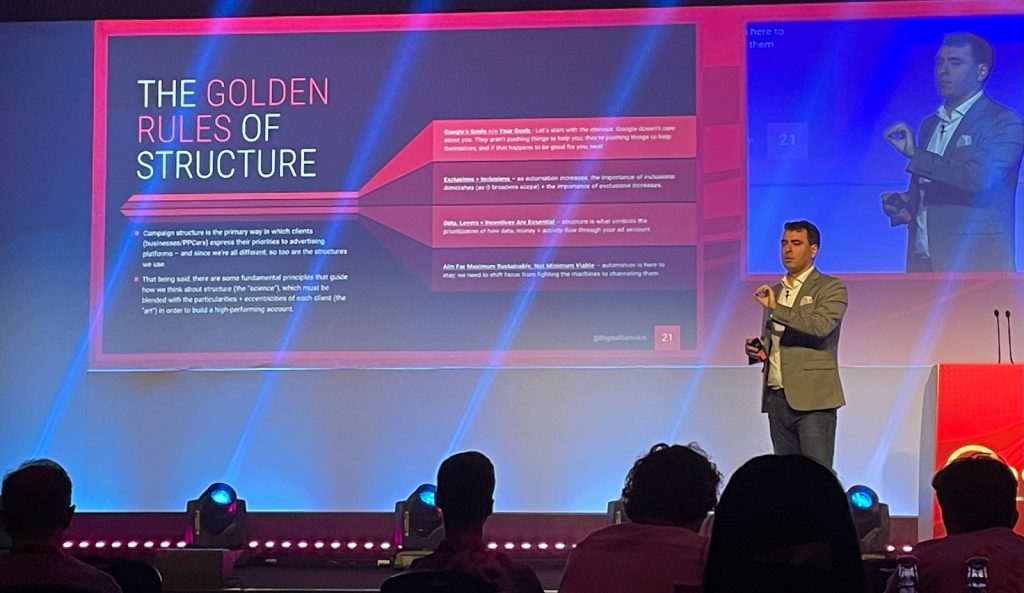 Elizabeth Clark (Dream Agility) is on the same page in her presentation. "Google is just a big casino; the house always wins." She compares it to playing football. You do not want 10 strikers in the field. Big part of the game is about stopping the goals that go in the net. 
Marcel Smal (Roots Network) showed great insights in brand vs generic strategies in his presentation. His takeaway: keep branded search terms out of PMax to maintain control over your targets and your reporting.  
5. Set the right goals
Last but definitely not least. A very important thing is to set the right goals. It is very easy to seat a target that seems to give great results, but in the end turns out to have resulted in losses.
Mike Ryan (Smarter Ecommerce (smec)) explained why incremental revenue does not always lead to incremental profit.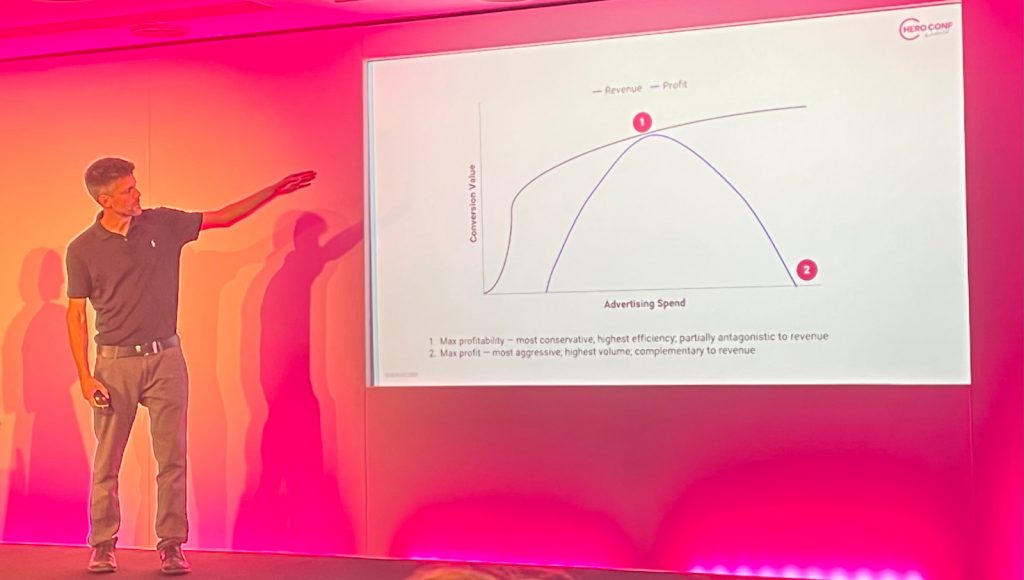 An important task of a PPC specialist is to find the optimal target.
Frederick Vallaeys (Optmyzr) showed how to find the optimal ROAS target for a campaign and how the Google's Budget Similator data can help you with that.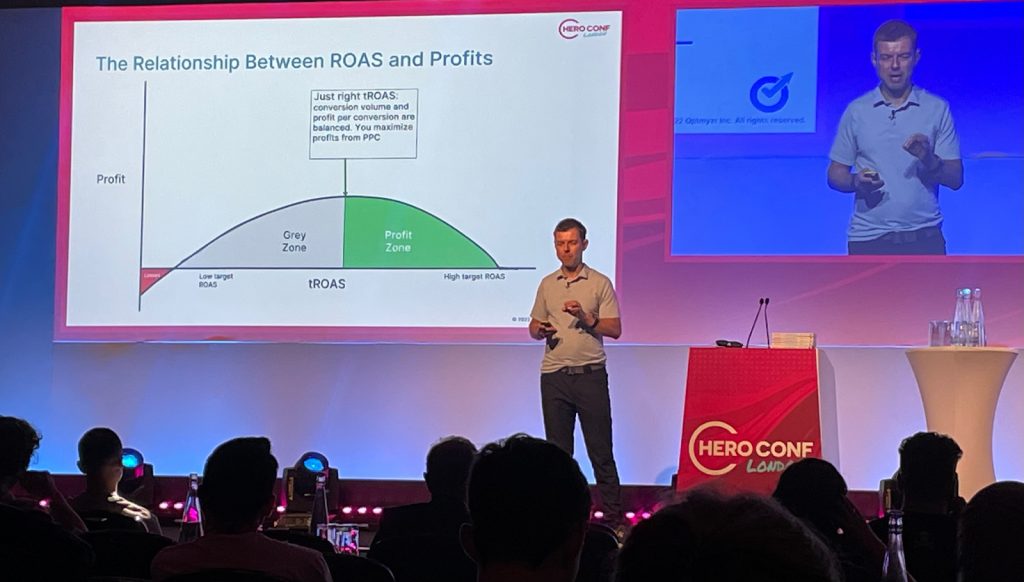 What will the future look like?
Personally, I found the different standing points about the future of PPC one of the most interesting topics that came back in several presentations.
The first day closed with a fireside chat, with Daniel Gilbert (Brainlabs) and Timothy Armoo (Fanbytes by Brainlabs). 
Daniel Gilbert used to work at Google and started Brainlabs in 2011. He explains how the last decade, being a PPC specialist, was much about automation. Google has now taken over that role. The specialism will now shift more to media buying. Not only Google. Digital marketing will become marketing. And PPC specialists will need to transform to broader roles, as 90% of what we used to do will be automated in the next 2 years.
Developed skills from the PPC field, like strategic planning, cross-channel experimentation, are still very valuable.
The industry of performance marketing is changing fast. Google is automating really fast now. With that also comes a massive demand for different skillsets.
Gilbert's message is to level up and start learning about other channels. Campaign execution is disappearing.
He also thinks that some stuff that is happening in PMax is awful for the advertiser and the end user. None of us are big enough to influence Google. It is very obvious where it is going. But, let's get with it. Give up everything, stop fighting the inevitable.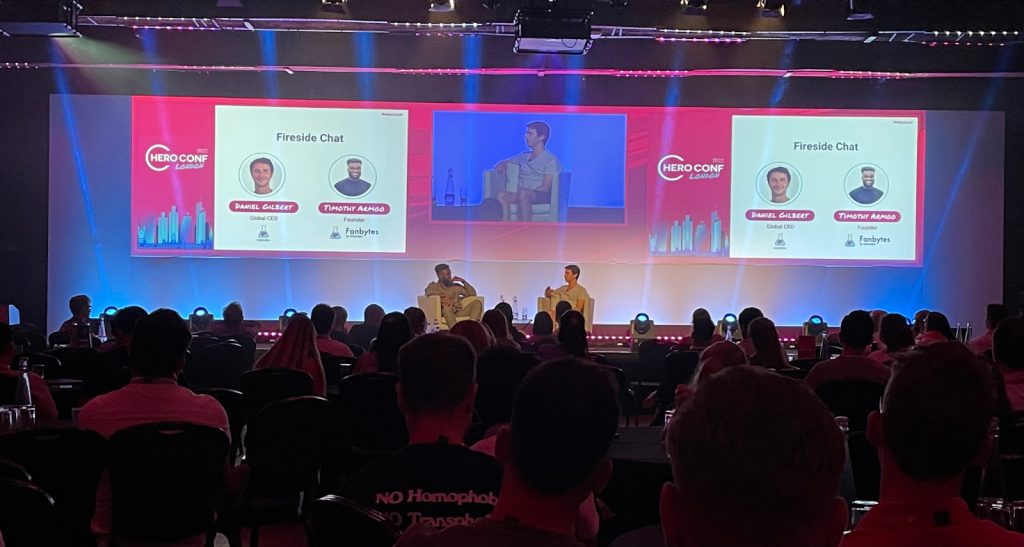 At the beginning of day 2, Frederick Vallaeys made it a "Gilbert vs Vallaeys", in the introduction of his keynote presentation:
Vallaeys: "Daniel Gilbert told you yesterday you're in the wrong industry, you should get new jobs."
He explained why it is important that in a 200 billion dollar industry it is important to have pilots to keep flying the planes. The fact that the plane now has autopilot means the job of a pilot has changed, but still necessary. The question is how we can become PPC superheroes. Human + Automation is a necessary combination. The industry still needs PPC specialists to be pilots, -doctors and -teachers (read his book "Unlevel the Playing Field" for more on that).
Vallaeys his main message: There is still enough for us to do, it has just become different.
My personal conclusion: Gilbert and Vallaeys can be right at the same time…
The thing nobody argues during the days is that Performance marketing radically is changing due to automation.
Looking at the 5 skills described in this article, which I distilled from all the presentations, it looks like there is still way enough to do in an automated PPC landscape. But it does become different and it partly requires a different skill set and different tools.
But at the same time I think it also seems plausible that PPC specialists will be working in a broader field in the future.
Why?
The next step after Google de-channeling its own channels in a single campaign (Performance Max), will be de-channeling the channels: Google, Facebook, Instagram, Amazon, Tiktok…. the ad formats are already growing more and more towards each other and so will the skills and tools to manage them in the future.
Up to the next…
Jeff Allen closed the event with some final thoughts: "It is impossible to predict, stay nimble and follow the developments closely."
It was great to represent Producthero at this great event together with Martijn Beumer and meet several of our partners. We look forward to the next!