Last updated on July 12, 2023
Best practices to expand Google Ads in Europe as a retailer or webshop
What is the best way to expand your shopping ads in Google to Europe? We all know that there are huge differences between commercials across the globe, however, the ad formats of platforms like Google Ads might limit your creativity but still require a different approach than in your local market. That is why we'll dive into best practices for advertisers outside of Europe who want to optimize their Google Ads in the European markets.
1. Market research: Learn what products are Google best sellers
When entering a new market it is recommended to do market research. Below are some of the elements that you should consider:
Favorite product categories for e-commerce
As each country has cultural differences, they also show different buying behavior. Everyone knows that some countries are known for their products, for example, Swiss watches, French Perfume, or Italian fashion. However, inside the countries, people also buy specific products. For instance, in the Netherlands, everyone has at least one cheese slicer and two bicycles, while in Poland every household has Bolesławiec pottery.
Using Google's Best Seller report while expanding to Europe
To gather information about best-selling products we recommend using Google's Best Seller Report in the Merchant Center. You can find the report in your Merchant Center:
Open Merchant Center > Click on Growth > Go to Best sellers > Use the filters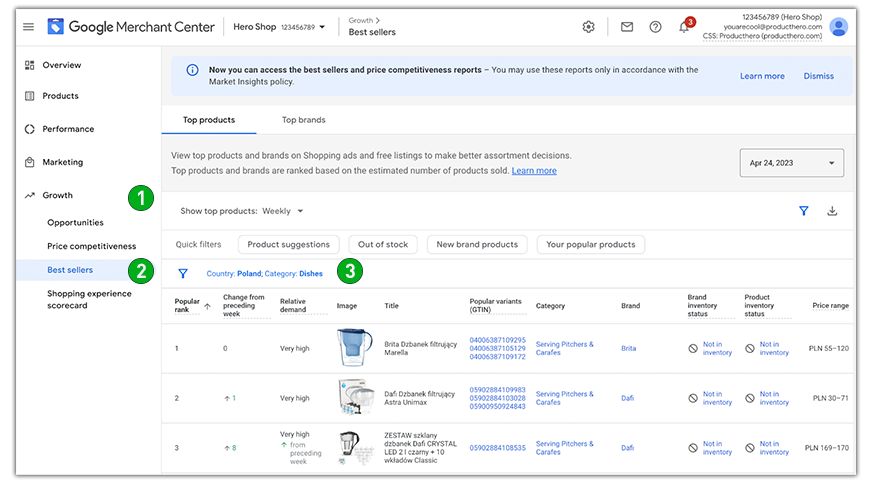 In the image above you can see the best-selling products in Poland for the dishes category, below you see the same category in the Netherlands which contains different products.

Case: How do you use Google's Best Seller data?
A retailer that offers affordable luxury analyzed the product performance in different European countries. They noted that a product category didn't meet their European performance benchmark in Italy. After comparing performance data with Google Best Sellers, it appeared, that their shopping ads competed with recognized brands that were more expensive. In other words, the products of this retailer in that category were priced too low to be seen as luxurious in Italy.
Eventually, their PPC team presented this data to the category managers and even the C-level to come up with a new strategy for Italy for that specific product category. Learn more about comparing prices: Using Price Monitoring Software To Influence Shopping Ad Performance.
Consumer trends in Europe for retailers
It is also smart to keep an eye on consumer trends. While Europe might come across a progressive union, there are huge differences. For example, in some countries, there is a trend in which clothing is becoming genderless. This also influences how you should optimize the product titles for fashion per country. There might also be differences in trends due to local laws. For example, the sales of non-alcoholic beer might be impacted if lawmakers increase the age of alcohol consumption in their country. Recently, we published a report about European CSS partners, it also includes the top categories for European retailers.
2. Localize your feed: Language, titles, currencies & shipping information
When expanding to Europe it is important to keep in mind that there are 24 official languages. After setting up your multi-country product feed strategy it's important to use a supplemental feed to add additional information such as the native currency, shipping information (Google made this mandatory), and a localized product title.
To localize your product titles, we would recommend using a tool to optimize your titles. This will save you a lot of time and by using Producthero you will be able to see the performance data of products. That being said, you can first focus on optimizing titles of products that are best sellers. Feel free to try our title optimization to get suggestions from multiple sources (including AI) that you can easily add to your supplemental feed without speaking the local languages.
3. Separate pMax and shopping campaigns per country
Shopping ad expert, Collin Munneke, says the following about creating performance max and shopping campaigns for retailers and webshops that want to expand to Europe. When advertising in multiple countries it is wise to split your Google Ads campaigns for several reasons, I've listed them below.
1. Splitting your campaigns per country boosts your budget efficiency
Splitting your campaigns by country allows you to allocate your budget more efficiently. Using a one-campaign-reaches-all strategy, you can prioritize your spending based on the campaign's performance.
Let's say you have a total budget of €10.000 for your advertising campaigns in Europe. You know that Germany has a population of over 83 million people, while Luxembourg has a population of just over 640,000. Based on this information, you might decide to allocate a larger portion of your budget to the German market, as it has a much larger potential audience.
2. Mastering bidding strategies per country
Your bidding strategy can also vary per country. By separating your campaigns you can adjust your bidding strategy for each country to account for differences in competition and other factors that might affect your return on ads spend.
3. Gain insights and optimize performance via reporting per country
When you split your campaigns into different countries you can track performance by country and gain insights into which countries are generating the most conversions. This gives you the opportunity to optimize your campaigns over time and make better decisions that will improve the performance of your account performance.
4. Testing to ensure you're getting the most out of your advertising budget
Testing your Google Ads campaigns is essential to ensure that you're getting the most out of your advertising budget. By testing your campaigns, you can identify which elements of your campaign are working well compared to the ones that don't.
Testing allows you to experiment with different ad copy, landing pages, targeting options, and bidding strategies to see which combinations generate the most clicks, conversions, and sales. This information lets you optimize your campaigns for maximum performance and Return on Ad Spend (ROAS).
Article: Find the perfect ROAS target for your performance max and shopping campaigns
In addition, testing helps you identify any technical issues with your ads or landing pages that might hurt your performance. By fixing these issues, you can improve your campaign's quality score and reduce your cost per click.
Overall, testing is essential for any Google Ads campaign, regardless of the size or industry. It enables you to make data-driven decisions, improve your campaign's performance, and ultimately achieve your advertising goals.
5. Segmenting products based on performance per country or area
For the past years, we have advised and helped retailers to segment their shopping ad campaigns based on performance data. They split the products of their performance max campaigns based on the conversions and impressions. This allows them to allocate more budget to best-selling products (the heroes) and less budget to products that get clicks but don't convert (the villains that steal your budget). We would recommend doing this for every country as sales might differ depending on cultural differences as previously mentioned.
Find out how you can segment your campaigns in this article about our thoughts on performance max for retail or watch the video:
4. Consider local holidays and events for shopping ads
As European countries all have their own holidays it is important to monitor them. These days impact foot traffic to stores and impact online and offline sales as some holidays involve gift-giving.
As a PPC specialist, it is important to keep seasonality adjustments in mind for your performance max and shopping campaigns. In this article, we describe how to adjust your campaigns for Black Friday or other peak sales seasons.

The holidays might also have an impact on the pricing of your products, or on the products of your competitors. That is why it is even more important to monitor the pricing of other retailers before and after these holidays.
To help you we created an overview of local holidays in Europe by country, this will help you to discover the most important events. Additionally, you can download it, filter the countries that are important to you and add additional events like World Cups, Songfestivals, etc.

Ps. create a copy of the Holiday overview for e-commerce, to easily edit it and use the dropdown fields.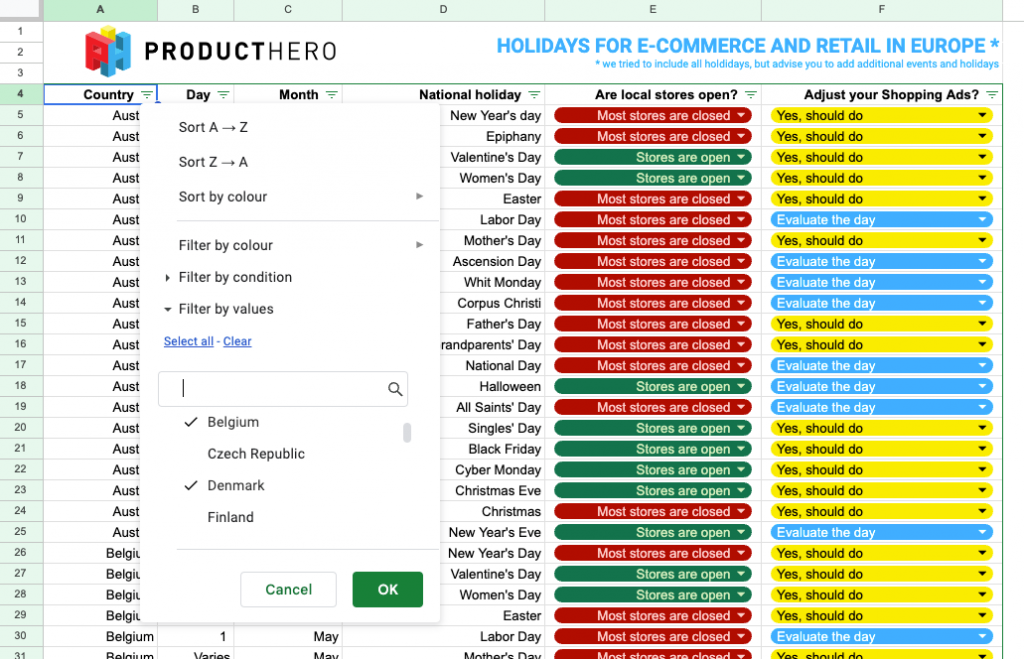 5. Use the EU-mandatory 20% discount on Google's shopping ads
A European court decided that Google has to adapt its advertisement policies to give Comparison Shopping Services (CSS) a fair advantage. That being said, within 21 European countries Google has to give CSS partners a 20% discount on the auction bid for their shopping ads.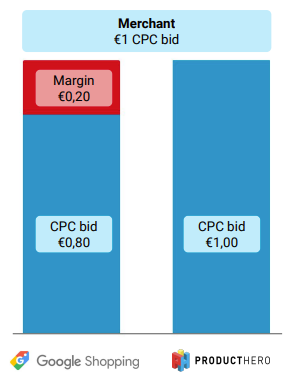 You can use this discount to your advantage. It will easily pay out to use a CSS partner like Producthero, as we only charge 39 euros per month for your first country and 19 euros for additional countries. That being said, if your ad budget is over 200 euros per country, then you have a positive ROI.
Want to see it for yourself? Join over 8,500 e-commerce advertisers. Try Producthero CCS and the title optimization tool for free for 30 days to see the results.
How Producthero helps advertisers to optimize shopping ads in Europe
We are very proud that so many retailers and marketing agencies use Producthero. In 2023 we launched an official Producthero Partner Program. This network already contains 400+ agencies that know how to set up Producthero and are able to support customers in their local languages.
Additionally, we also have shopping experts and Customer Succes colleagues that are able to help in many languages. As the biggest European Google CSS partner we have helped both small and large retailers to expand their advertising in Europe.