Last updated on November 24, 2023
What?! A CSS is advertising on behalf of me with Product Listing Ads
In the past year, I have talked to several merchants who were unpleasantly surprised to find out that multiple CSS partners advertised their products in Shopping ads without letting them know.
What is the situation?
In the old situation, a shopping advertiser needed to have a Merchant Center that verified the merchants' domain. This is to make sure the advertiser is also the owner of the webshop. Since the start of the Google CSS program, Product Listing Ads (PLAs) can also be shown by Comparison Shopping Services. And they do not have to claim and verify a website URL. This means any CSS can start running ads for your products without your permission. These campaigns are monetized with affiliate or CPC links in the final URL of the ad. 

Why you want to stay in control
A product in your assortment can only be shown by one CSS. The advertiser that wins the auction gets the ad impression. So, if other advertisers run campaigns for your products, they compete with your campaigns. Although this form of competition does not increase your CPC, I have seen it harms the volume and performance of your Shopping campaigns.
How do I take back control?
You may be caught by surprise that this is possible and happening. But the good news is that you can easily find out if this is happening to you and take back control.

To do this you need a merchant center that has claimed your domain. And here is the point: Currently, only a Merchant Center under Google Shopping CSS can verify a domain. So if you switched your existing Merchant Center to a CSS partner (f.i. Producthero CSS), you need to create a new one. Even if you verified and claimed your website URL before; once your Merchant Center is associated with another CSS, your Merchant Center loses the verification and, with that, the possibility to manage which CSSs can advertise for you.

The steps to take back control if a CSS is advertising on your behalf without you knowing it:
1. Make sure you have a Merchant Center under Google CSS
Only a Merchant Center associated with Google Shopping CSS can verify and claim your website URL. This gives you the ability to monitor and opt out CSSs.

2. Take the following steps in your Merchant center

In the Merchant Center, go to the Tools menu and select Shopping ads setup.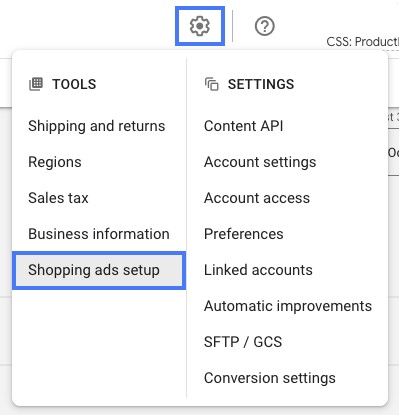 Go to Comparison Shopping Services


At the bottom of the page go to the drop-down menu CSSs. Here is the place where you see which CSSs are advertising on behalf of your shop. If you uncheck the ones you do not want to advertise for you, you immediately revoke their ability to do this.

Some extra advice:

If you do not want affiliates to advertise with Shopping ads on your behalf, clearly state this in the terms of your affiliate program.
Make clear agreements with comparison shopping services you work with to prevent them from advertising your products in Shopping ads on your behalf.