Last updated on November 20, 2023
Optimizing your Google Business Profile for retailers to boost on- and offline sales
Looking at the latest research, Google still ranks as the most visited website globally which makes it important for your webshop to have an optimized Google Business Profile. This is where consumers see your opening hours, reviews, pictures and more. Enhancing this will help you get a higher position in Google and strengthen your advertising efforts.
What is a Google Business Profile?
Google Business Profile (formerly known as Google My Business) is a free tool from Google. It gives you control on how your retail business is presented on Google Search & Maps. For webshops the "Products" feature of your profile can bring potential customers to your online or physical stores. Furthermore, the profile allows customers to find your business name, address, website, photos, products, business updates, events, etc.
What is a good Google Business Profile for retailers?
Google's complex algorithm favours comprehensive business profiles. The more you share, the higher Google positions you get, and you are increasing the chances that new customers will visit the location or purchase products online. By enriching your Google Business Profile, you are enhancing your SEO, creating a better customer journey, effective brand reinforcement and making your business stand out.
A good Google Business Profile for retailers has:
Reviews (and responds to reviews)
Pictures of the store
Up-to-date opening hours
Contact information
Responds to questions
Links to social profiles
Links to their products (and local inventory)
Up-to-date location information
Here is an example of a good Google Business Profile from Hunkemöller:
New Google Business Feature: "Small Business" Attribute
In early November 2023, Google introduced a new business attribute called "small business". This attribute, accessible through the Google Business Profile, enhances user experience by providing valuable insights into businesses, allowing users to easily identify retailers falling under this category.
In Google's own words "The annotation highlights your status as a small business, helping people who care about small businesses to find you."
This attribute can already be added by US merchants from 1st November 2023. However, it may take several weeks or months before this functionality extends to European businesses.
When arriving in Europe, this feature can make a great impact, since, according to Statista, "Small and medium-sized enterprises (SMEs) form the backbone of the economy in Europe, with almost two-thirds of employees in the EU working for an SME, producing over half of all value added in the European economy".
As a result, the inclusion of the "small business" attribute will promote greater visibility and recognition for European SMEs on the Google platform.
Listing your products on Google Business Profile
Businesses have the opportunity to upload their products in the Business Profile panel, situated to the right on Google Search results. This positioning ensures that your business offerings are fully displayed which can attract consumers. The best way to manage this is by using a local inventory feed, if you don't have this, they need to be added manually.
Omni-channel: using a Local product inventory feed
Adding and updating all your products manually on your Google Business Profile can be a daunting task. So, for those who want the omni-channel experience, Google has a better method – the "Local Product Inventory Feed" option. This feature allows businesses to list all products that are sold in each physical store. It will automatically show the product's availability in real time, both online and offline, which increases the chances of purchasing the product.
To create a local product inventory feed follow the steps in this article.
Adding products manually to your Google Business Profile
If you have a small store with a limited amount of products you might choose to do it manually. However, you will have to add every single product using the 'add products' feature in your profile. Additionally, you have to make sure that it matches the inventory in your store to prevent people from visiting your store and discovering that the product they need is out of stock. To add products manually, you can do this on your Google Business Profile: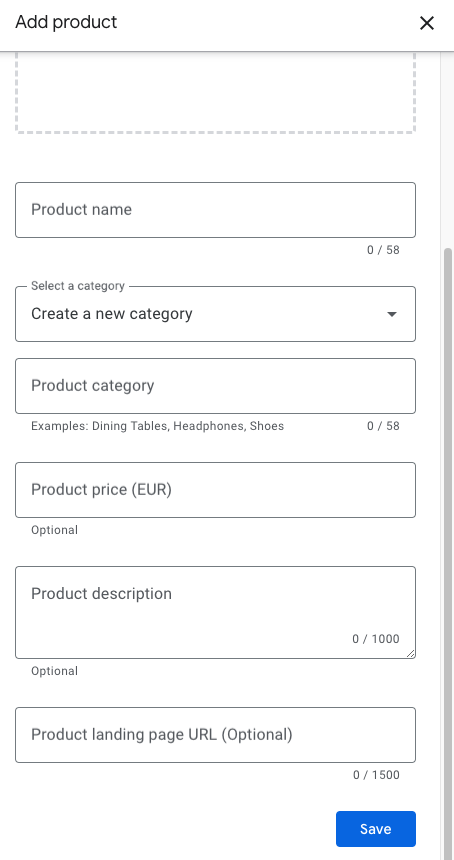 To manually list your products, you might want to consider following these six steps:
1. Add good product images
Images speak louder than words, so there is no room for low quality images. Having a good quality image will make a good first impression! Make sure to use the recommended sizes and guidelines that Google has available.
2. Use descriptive product names
Craft a name for your products that's concise and descriptive. You can discover how to optimize your titles in this article.
3. Use the right category
Choose the category that your product most resonates with.
4. Set the right price
Reveal your product's price, whether it's a firm figure or a teasing price range. This step, while optional, is very impactful.
5. Add a product description
Write a product description that is self-explanatory, where customers can have answers to their most common questions at first glance.
(Keep it within the 1000 characters)
6. Add a product landing page
Empower an action by adding a url to the right landing page. While this is an optional feature, it is highly recommended to opt for it, as it will increase chances in getting the desired action.
Measuring omnichannel success
Having good measurement in place enables Google Ads to distribute your budget efficiently between online and offline goals. This dynamic allocation ensures that your efforts translate into tangible outcomes on both fronts – and a maximum ROI from your advertising investment.
The Store Visits conversion metric tracks users who interact with your online ads and visits your physical retail store. This bridges the gap between online and offline shopping, offering businesses insights into the effectiveness of your offline and online marketing efforts.
Managing a brand using Google Business Profiles
Next to selling your products, it's important to manage how your brand comes across to consumers. That is why you want to make sure that your Google Business Profile for all your physical stores are up-to-date.
That is why you should make sure that for each store you manage the responses to reviews, store pictures, and to monitor performance of the stores. A tool that can help to manage your profiles across stores and to boost local search results is GMBapi. You can use the GMBapi tool to optimise your Google Business Profile local listings for multi-location SEO. An example of a retailer with 180 stores using this solution to push down Google Ads costs by 10% can be found on their site.

Optimizing your shopping ads on Google
To maximise the performance of your business (organic & paid), it is important to invest in Google Ads with a comprehensive Google Business Profile. Specifically tailored for shopping advertisers who are seeking to enhance sales and improve the results of Google Ads campaigns, Producthero offers effective solutions to more than 10.000+ retailers all over Europe.
With Producthero you can optimize your product titles, segment your campaigns and your Shopping ads get more bidding power with a 20% discount on your bid for shopping ads. Interested? Read more about Producthero and sign up for a free trial.