Last updated on May 30, 2023
Case: How G-Star RAW pushes its best products using Producthero Labelizer
In times when Google increasingly removes the possibilities to optimise campaigns, it is interesting to look at how data and segmentation is becoming increasingly important to improve the results of shopping ads. G-star tested using Producthero Labelizer in some countries and saw a significant difference between the countries where these optimizations were applied and where they were not.
Producthero Labelizer enables G-Star to push its best performing products in Google's shopping window. It also forces the Google algorithm to spend more efficiently on products that have an unacceptable cost/sales ratio.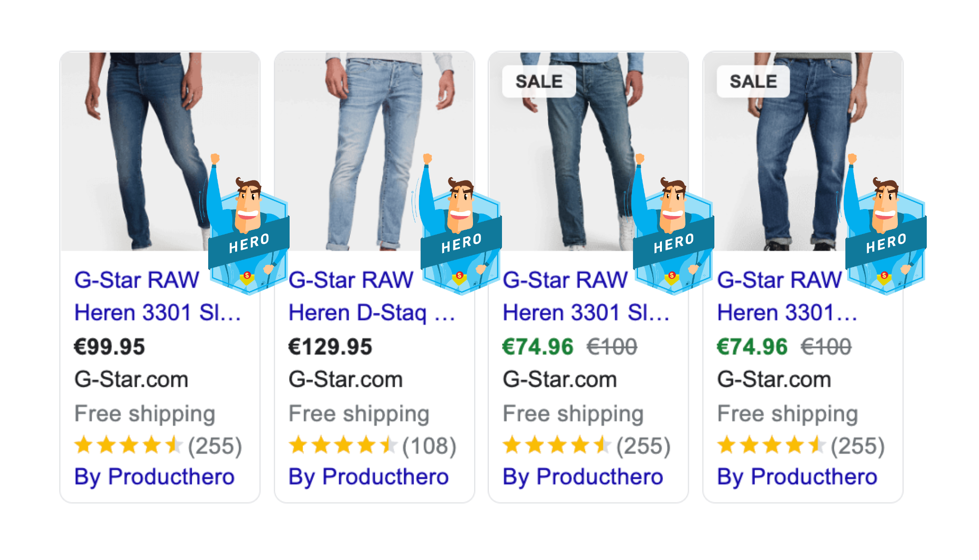 Based on data, Producthero Labelizer determines what products are their current 'Heroes' and which ones G-Star is not making a strong enough profit on: their 'Villains'. By pushing the Hero products and optimising the spend and profitability on the Villains, G-star manages to spend more efficiently and generate more revenue: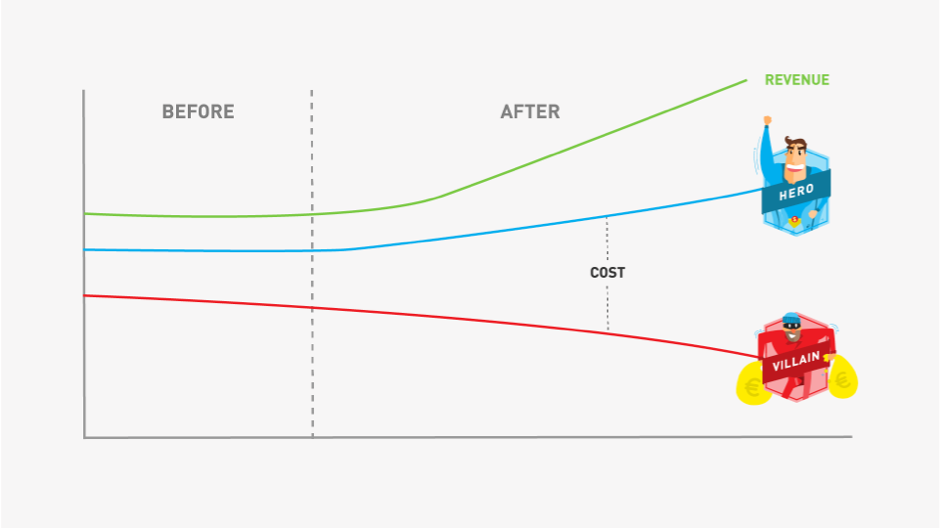 This can be visualized when we look at the division of spend in the Netherlands when Producthero Labelizer was not yet used. A solid part of the investment was done in products that as a group are under the ROAS objective G-Star has: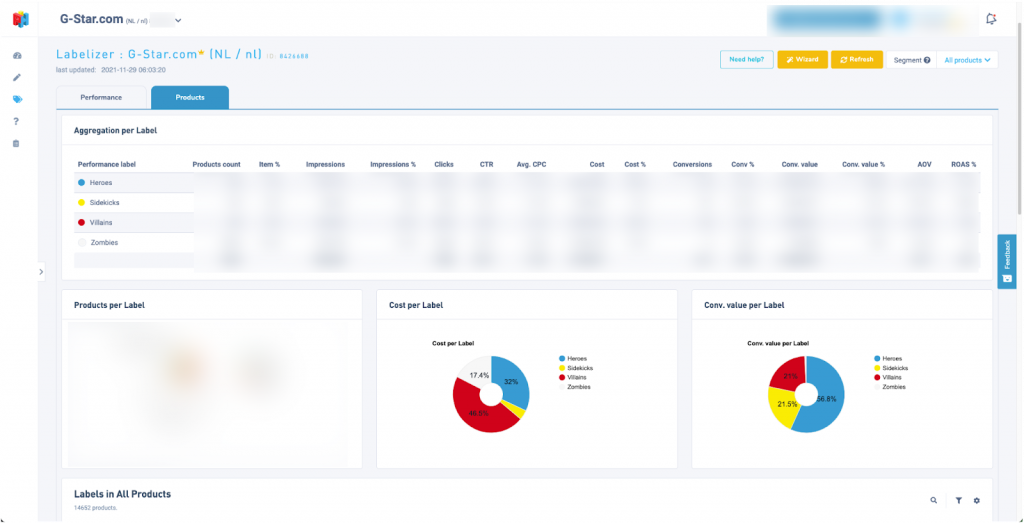 In Germany, where Producthero Labelizer was used, the chunk of the spend invested into Villains was much lower, and more than 60% of the spend is going to the products that deserve to be in the spotlight as they bring G-Star good profitability:
The country using Producthero Labelizer was 33% more efficient in the same period.
HOW DOES IT WORK?
With Producthero Labelizer, the advertiser achieves more revenue at the same cost. The solution analyzes the behavior of the products on a daily basis. It then ensures that advertising costs are reduced on products that are underperforming. Sleeping products are activated and the best performing products are given more space to be displayed.
Producthero Labelizer analyzes the behavior of the products on a daily basis and categorizes them into 4 personas:
The product personas explained:
HERO – Less than 10% of products generate more than 80% of sales. With the right treatment, these products become 'superheroes' and generate even more sales.
VILLAIN – Around 50% of advertising costs go to products that don't perform well. The advertiser literally loses money here and can save by giving them less budget.
SIDEKICK – Some products do quite well, but at low volume. With the right treatment, they will generate more sales.
ZOMBIE – More than 60% of the products are 'sleeping': they get almost no impressions and clicks. By activating them, they can generate revenue.
HOW TO USE WITH PERFORMANCE MAX CAMPAIGNS
Producthero Labelizer is the perfect tool to create product segmentations and take more control over Performance Max campaigns.

Read more on How to use Producthero Labelizer for Performance Max campaigns
Producthero Labelizer is part of Producthero PRO – A free 30-day trial is available for all Producthero customers.