Last updated on June 27, 2023
The summer sale is coming, prepare your shopping ads – 8 tips
With the Summer sale just around the corner, it is crucial to start preparing your Google Shopping campaigns. And the good news is that the sun activates consumers' shopping drive!
According to The Effect of Weather on Consumer Spending study, nice weather and abundant sunlight, which are often experienced during the Summer season, may have a positive impact on people's willingness to spend more money. However, if you don't want to fully rely on the sun to increase revenue and maximize your Return on Ad Spend (ROAS), there are several other aspects you need to consider and incorporate into your Shopping ads strategy.
Here are eight tips to take into account when preparing your summer sales campaigns:
1) CHOOSE THE RIGHT CAMPAIGN STRUCTURE
Not all your products are going to perform equally well. Segmenting your products will help you to increase your revenue by reducing costs on your underperforming products (these are your Villains) and allocating more budget to your best-selling products (these are your Heroes). We suggest implementing a Labelizer campaign structure and setting the same target ROAS to boost your sales.
Additionally, you may want to create a boost campaign for your sales products. We recommend reading this article on how to create a boost campaign alongside your labelizer structure.
See how Badmeubelnet increased its revenue by 61% and achieved a ROAS of 474.6% by using the Labelizer campaign structure.
2) KEEP AN EYE ON YOUR COMPETITORS
When making online purchases, people often compare prices. Besides, during sales season, some of your main competitors may offer more attractive deals. Produchero's price monitor will allow you to follow the price adjustments of your competitors, especially if they are selling the same products as you.
If your competitor has a huge discount on your best-selling products, this will allow you to either adjust your pricing or decrease the ad budget on that product for a short period.
If you want to learn more about the pricing effect during the peak season on shopping campaigns, take a look at this article.
3) USE THE PROMOTION AND STORE PICK-UP TAGS
By enabling Local Inventory Ads (LIA), you can implement pickup options and offer an omnichannel experience to your customers.
Local inventory ads enable advertisers to showcase their products and provide store information to potential consumers who are actively searching on Google and are nearby.
Google offers different pickup tags options:
When users are near one of your stores, your ad will display the "In store" tag. Your Shopping ads can also feature the "Pick up today" tag if the product is available for same-day or next-day pickup, or the "Pick up by [Day]" tag if the product is not currently available for in-store pickup but will be within a few days.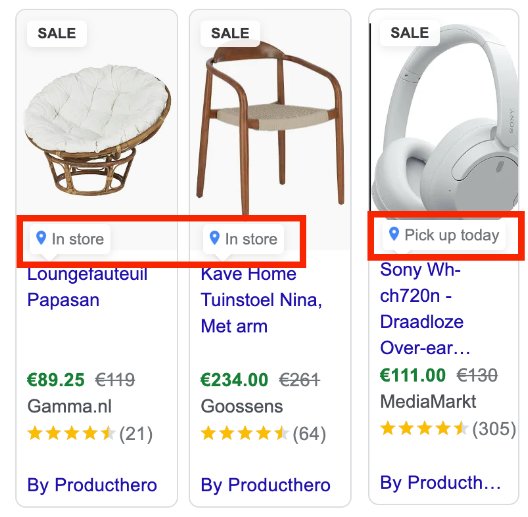 If you haven't implemented your local inventory ads yet, we recommend reading this article to learn more about how you can do this.
Sale price annotations like "Price drop" or "Sale" tags can also make your shopping ads stand out. The price drop badge will be displayed only when the product's price has decreased by a minimum of 20% compared to the previously listed price. Additionally, every time Google shows the "Sale" tag, the previous price will show with a strikethrough.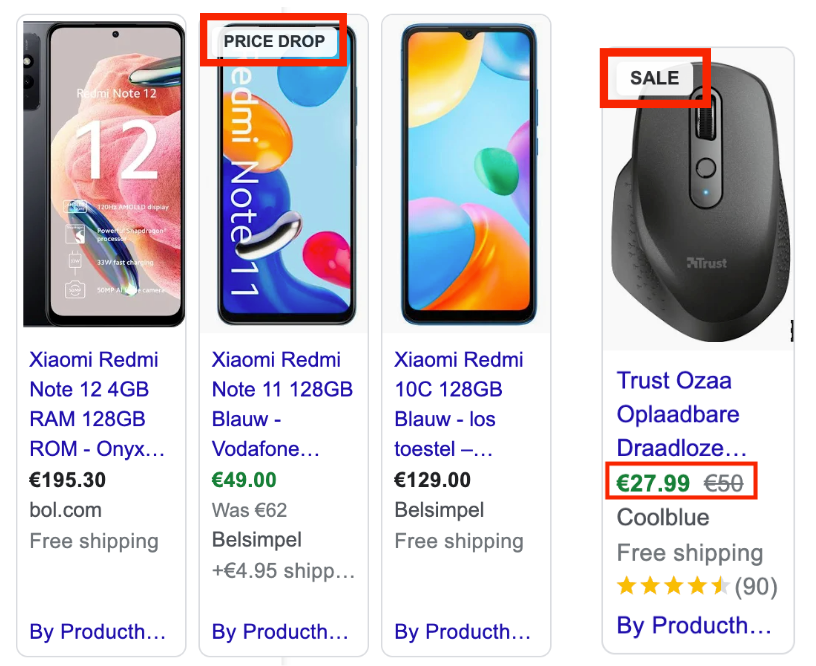 We recommend reading this article to learn more about sale price annotations.
4) OPTIMIZE YOUR PRODUCT FEED
Given that Google Shopping is a very visual experience, the quality of your product titles and images can have a significant impact on your campaigns. You can achieve superior outcomes and maximize your results by grabbing consumers' attention through your products.
If you sell apparel, this article will provide you with best practices to advertise on Google Shopping.
Apart from choosing a nice image, you also need to take care of your product titles.
Optimizing your titles increases the probability of your products showing for relevant searches and having more impressions.
Producthero Optimizer helps you enrich your titles by giving suggestions that will make your titles more attractive and descriptive.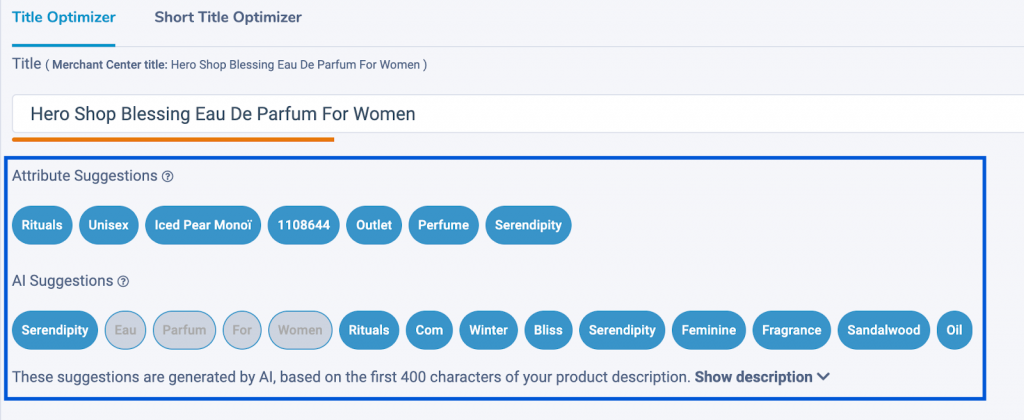 Do you want to see Produchero Optimizer in action? Check this Optimizer video to dive into its features.
5) CONSIDER SUMMER HOLIDAYS
When planning your advertising campaigns, it is important to take note of specific holidays that can impact your strategy, especially if you plan on advertising in several countries.
Some holidays are associated with gift-giving traditions, typically leading to a rise in sales in the previous days. For example, Father's Day is celebrated in June in countries like Ireland, Switzerland, and Poland.
On the other hand, there are holidays, such as King's Day in the Netherlands, in which people tend to gather outdoors or spend time with their families or friends. On such occasions, it is less likely for people to spend money on apparel or similar items, and many shops are closed.

To help you plan your campaigns effectively, we have created an overview of local holidays in Europe. You can download the document and filter by specific countries or events.
6) OPTIMIZE PERFORMANCE MAX CAMPAIGNS
At the end of 2022, Google migrated all Smart Shopping campaigns to Performance Max campaigns. This highly automated campaign allows you to advertise in all the different Google channels, including Display, Search, Discover, YouTube, Gmail, and Maps.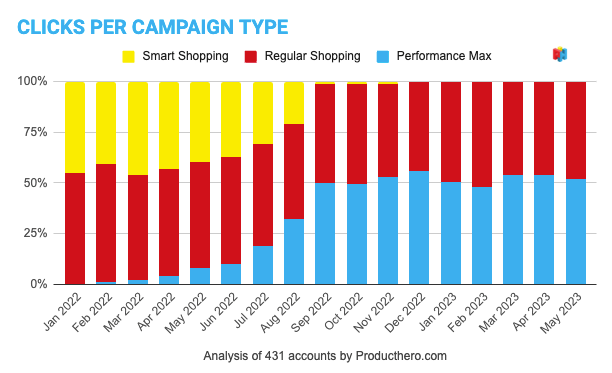 We recommend including Performance Max campaigns within your shopping ad strategy, as they use smart bidding and automated targeting to get the most out of your budget and to have more visibility.
Find here our thoughts on Performance Max for retail: https://blog.producthero.com/news/thoughts-on-performance-max-for-retail/
7) USE GOOGLE'S BEST-SELLER REPORTS
Google Trends can help you find which of your products may have a high sales potential during Summer. For example, if you search for the term "beach towel" you will notice a consistent peak in June, just when Summer starts.

In addition, Google's best-seller reports can help you discover the best-selling products or brands in Google Shopping. You can use these reports to decide if you want to add these products to your inventory if they are not included yet, or if you should increase your bid for them if they already are in your inventory. You can access the best sellers report in your Merchant Center.
Read this article to see how you can access Google's best-seller report.
8) CREATE EFFECTIVE LANDING PAGES
When running shopping ads, it is vital to give equal attention to both the shopping ad itself and the landing page where users are led after clicking the ad.
By creating simple, attractive, and effective landing pages that include call-to-actions (CTAs) and prioritize user experience you will increase your conversion rate optimization (CRO) and significantly enhance your chances of converting clicks into sales.
If you want to learn more about how to optimize your conversion rates, we recommend reading this article. You can also contact one of our agency partners to support your CRO improvements.
Start your summer sale
In conclusion, every aspect counts: from choosing the right campaign structure and keeping a close eye on competitors to utilizing promotion and store pick-up tags and optimizing your product feed. Don't forget to consider holidays and leverage Google's best-seller reports to stay ahead of the game. And finally, keep in mind the user experience to create effective and compelling landing pages that drive high conversion rates.
Start optimizing your campaigns and make the most of this sunny season by taking into account these eight tips.
To stay up-to-date on more tips and tricks to boost your Google Shopping Ads, subscribe to our YouTube channel or newsletter.