Last updated on May 30, 2023
Everything you need to know about Performance Max
Just recently, Google Ads welcomed a new addition to its advertising toolkit – Performance Max. This highly automated campaign type is changing the face of online advertising as we know it. For example, with one PMax campaign you are able to reach multiple channels of Google's network. Moreover, some existing campaign subtypes (such as Smart Shopping) will be overruled by this new campaign form and even disappear by the end 2022.
Performance Max is a new campaign type in Google Ads. It's a highly automated and business goal oriented campaign type that goes further than every other campaign type ever did. Smart Shopping already had a lot more inventory than Regular Shopping campaigns. This helped lots of retailers to improve their overall results. With Performance Max you have access to all of Google's inventory from a single campaign.
Placement of creatives across the Google Advertising Network :

Performance Max will automatically allocate your budget towards the targeting options with the highest expected performance, based on your business goals. (Sounds great ;-))
Differences between Smart Shopping and Performance Max for Retail: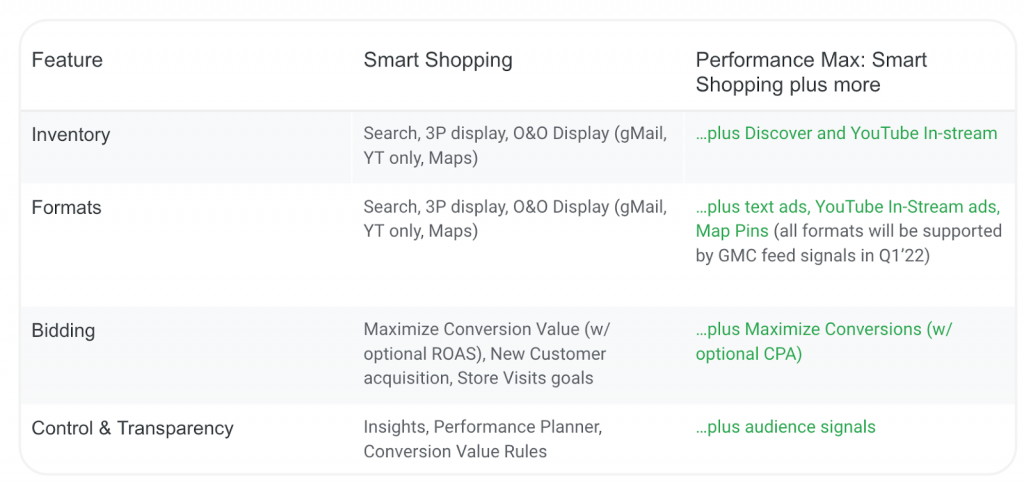 As you can see there are a lot more possibilities when it comes to all different aspects of a Google Ads campaign.
Performance Max and its impact on existing campaigns
Another important aspect is how a Performance Max campaign impacts existing campaigns, such as Smart shopping. Most of the time, the Performance Max campaign gets priority over existing campaign types. However, there are a few situations in which this is not the rule. See the tables below for the explanation and consequences per campaign type.


Good to know
Before we start explaining how to set up a Performance Max campaign, there are a few things you need to know:
From April 2022 Google will introduce the possibility to upgrade your Smart Shopping campaigns to Performance Max campaigns within the Google Ads interface. By using this feature you will keep the historical data campaign data and can expect a minimum impact on fluctuations in campaign performance. When building new campaigns the campaigns will enter the learning period.
In September 2022 Google will have migrated all Smart Shopping to Performance Max campaigns.
Currently, it is possible to create a Performance Max campaign without ad assets. This will make the campaign behave like a Smart Shopping campaign. A more detailed explanation about this will be written in another blog.

Performance Max retail campaign approaches
Campaign structure has always been an important strategic way for advertisers to find the optimal amount of control versus automation.
We introduce 3 PMax for retail campaign approaches and classify them by complexity:
Easy – for the small retailer, not necessarily savvy with ads
Medium – for medium retailers wanting to take back control, but not having to build and maintain a very complex campaign structure
Advanced – for bigger and more savvy advertisers (big advertisers and best-in-class agencies)
In this article you can everything about the different campaign approaches: Performance Max retail campaign approaches
Performance Max and Producthero Labelizer
Producthero Labelizer is a perfect solution to get more control and insights. And above all: increase the performance of your campaigns by forcing Google algorithms to be more efficient.

In this article we will go into how you can set up Producthero Labelizer with Performance Max campaigns: How to use Producthero Labelizer for Performance Max campaigns