Last updated on May 30, 2023
Performance Max retail campaign approaches
The introduction of Performance Max (pMax), the one campaign to rule them all, can be considered as one of the most revolutionary changes to Google Ads in a long time. This is the start of an era where Google starts to take full control over where and when an ad is shown. How should you, merchant or agency, approach this new way of advertising?
Disclaimer: This is a first concept of approaches for retailers to structure their campaigns with this radically new campaign type. These approaches are tested by several advertisers, but not extensively yet. Feel free to comment on and follow my post on Linkedin to find and share experiences, additions, suggestions on this article.
About Performance Max
This summer (July-September 2022) Smart Shopping campaigns will automatically be upgraded to Performance Max campaigns. For more information on what Performance Max campaigns are, read our article: Everything you need to know about Performance Max.
Is the fact that Google is taking more control a bad thing for the advertiser? We don't think so. With insights in the campaigns of hundreds of advertisers over the last years, we can truly say that we understand why Google is making this move. Most campaigns we have seen do not get most out of their potential because of misuse of all the insights and options a campaign has to offer.
In A/B-tests with several clients we have also found that using Google's smart algorithms have turned out to be beneficial, even for advertisers using sophisticated manual approaches.
Why campaign structure is important
Campaign structure has always been an important strategic way for advertisers to find the optimal amount of control versus automation.
Will the future be one campaign that rules everything for an advertiser?
I think not. Advertisers, especially the bigger and smarter ones, will always be looking for approaches to have more control over their campaigns.
Like back in 2014 Martin Röttgerding introduced a revolutionary and commonly used shopping ads approach, using campaign priorities, we will now introduce some new approaches to take more control over shopping with the new Performance Max campaigns.
Frederick Vallaeys writes in his book "Unlevel the Playing field":
HUMANS + MACHINES > MACHINES ALONE
Vallaeys: "how you structure your campaigns can give you another way to excel. And the right account structure can also position you to get the most from the tools Google offers and the automation layers that can optimise them".
The 3 Performance Max for retail campaign approaches
We introduce 3 PMax for retail campaign approaches and classify them by complexity:
Easy – for the small retailer, not necessarily savvy with ads
Medium – for medium retailers wanting to take back control, but not having to build and maintain a very complex campaign structure
Advanced – for bigger and more savvy advertisers (big advertisers and best-in-class agencies)
Here is a schematic overview of the 3 approaches.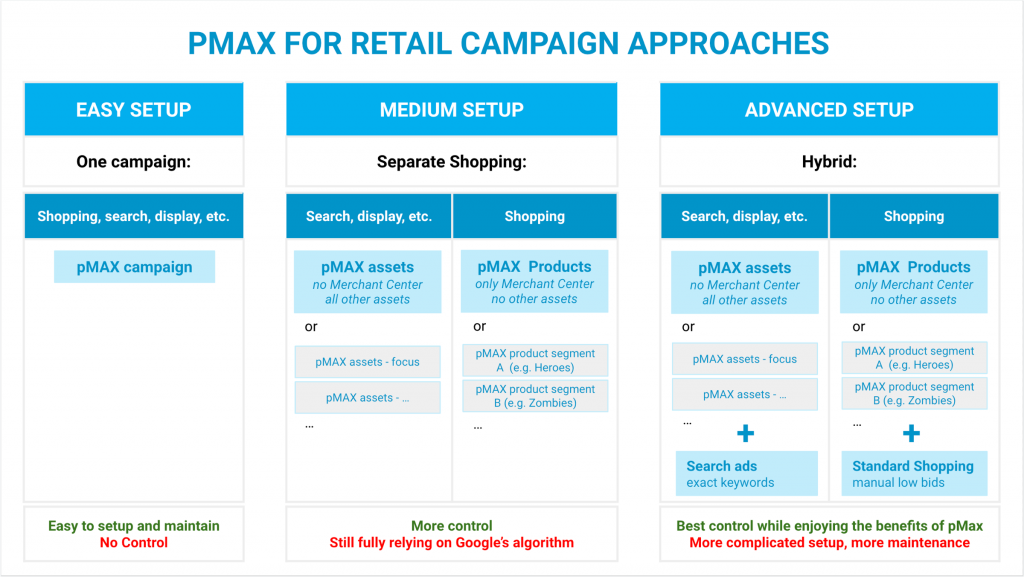 We will discuss the 3 approaches in more detail:
EASY SETUP: One campaign approach
This is the approach Google would recommend you to take.
It comes close to 'set it and forget it', by fully leaning on Google's sophisticated algorithms to get you the best results.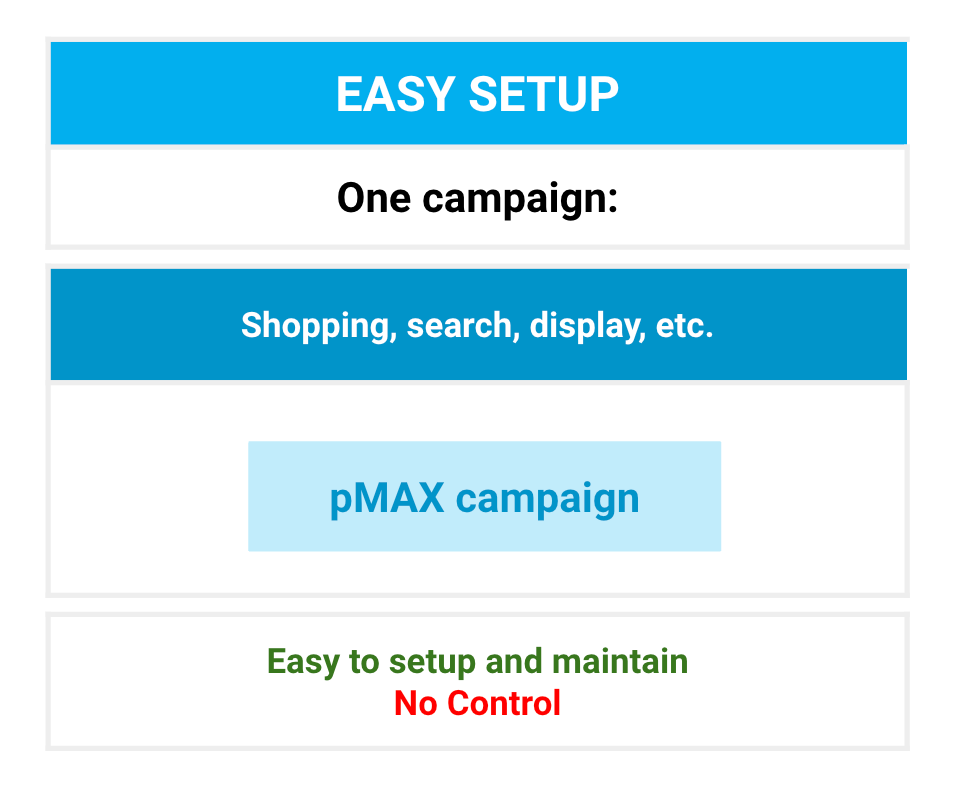 This approach will be suitable for many advertisers, especially the smaller ones or the ones that do not want to spend much time.
Although this campaign structure may be very simple, there can still be much sophistication under the hood, with the usage of data, like product content, (first-party) audiencies and richer conversion data (returns, margin, LTV, etc.)
The benefit is that this approach is easy to set up and maintain. But the advertiser hardly has insight and control.

MEDIUM SETUP: Separate shopping approach
For merchants, Shopping ads account on average for around two third of all Google Ads clicks, and more than 80% of non-branded search ad clicks. With that in mind, it is logical to separate these campaigns from the rest to optimise and analyse them separately.
Why?
To get more control (and insight). With this approach you are able to run your shopping ads in separate pMax campaign(s). And you can create a separate (pMax) campaign for the other assets. Take control of which segment of the assortment is advertised in separate pMax PLA campaigns, which is harder / not possible if the budgets are shared and results are combined with display, text ads, Youtube, etc.
How?
1. Create a Performance Max campaign with Merchant Center feed as the only asset

2. Make sure that Final URL expansion is turned off

You can run all shopping ads in one separate pMax campaign, but for medium and large advertisers we would recommend to use separate campaigns for different product segments. By doing this, you can push your hero products better, save on unprofitable products (Villains) and activate products that hardly get any impressions and clicks (Zombies). For more about this approach read: Producthero Labelizer: Forcing Google Smart / Pmax Shopping to be more efficient.
In other Performance Max campaign(s) you add the other assets: headlines, descriptions, images, video's, etc. Here you do not add your products, so you keep your shopping ads separated from the rest. You can choose to make segmentations there as well (for example by category, priority or goal), or to put everything in one campaign. If you do the last, you are still able to create multiple asset groups within the Performance Max campaign.
ADVANCED SETUP: Hybrid approach
By adding an extra human managed layer to the medium setup, the advertisers get a more complicated setup, relying on a stronger mix of HUMANS + MACHINES: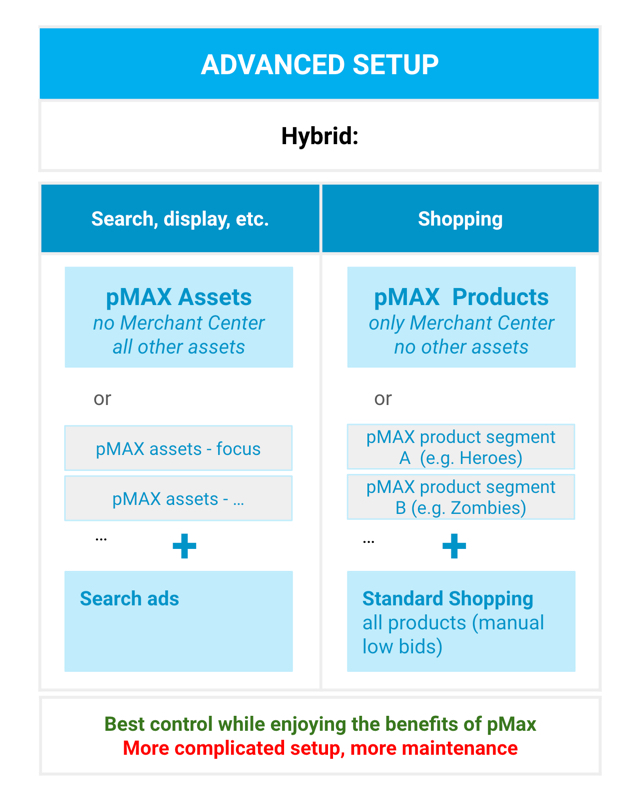 The advanced setup is the same as the medium setup (see previous paragraph, medium setup). The shopping ads are separated and ideally segmented to control and increase the performance. A segmentation approach that works very well for advertisers is the Hero, Villain, Sidekick, Zombie approach we use at Producthero.
1. Search campaign(s)
Many advertisers have a small set of search terms that generate a big part of sales. To keep control over this part and to be able to manually optimize the ads and performance for these terms, you can have a text ad campaign that targets these terms, using manual bids. If a search term exactly matches the keyword, this campaign will have a higher priority than the Performance Max campaign. By adding an extra search campaign, an advertiser has more control on how and when a text ads is shown.
2. Standard shopping campaign – all products – low manual bids
When using Performance Max campaigns, you are not in charge anymore of where and when a product is shown. In case the algorithm for whatever reason decides not to bid on a product, it is interesting to have a campaign in place with low manual bids. You could call it a 'catch all' or 'safety net' campaign. It is our experience that having certain campaigns next to fully automated campaigns, can generate an interesting extra stream of low cost visitors. These campaigns often generate some nice extra revenue with a favourable ROI.
How to set this up
To create the separate Pmax shopping campaigns, you need to set up a separate pMax campaign in which it is important that:
No other assets are added besides the Merchant Center feed
Final URL expansion is turned off
This is how a Performance Max campaign with only the products looks like: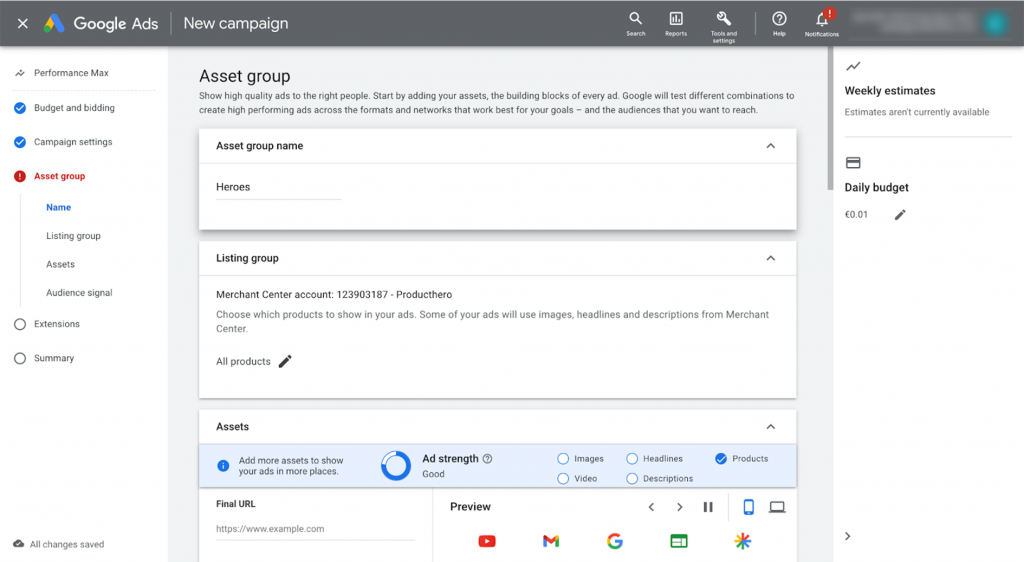 To create more than separate shopping campaigns with a selection of products (for example one for heroes, villains, sidekicks, zombies), you can select which part of the products you would like to add to a pMax campaign.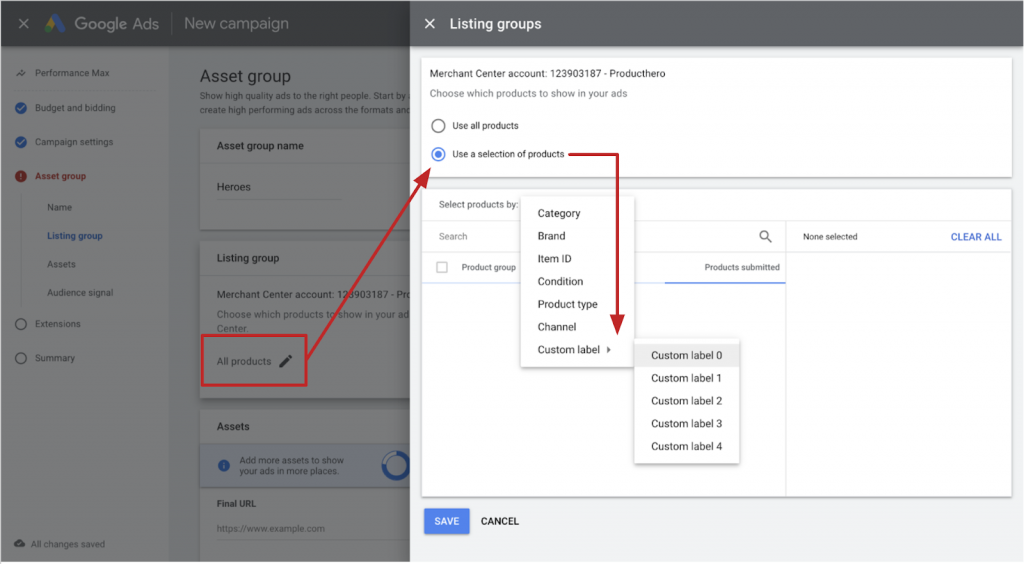 For a step-by-step guide on how to set this up, you can follow the instructions in this article.
Results and findings
Several advertisers have yet reached out to us who read this article and started using the medium or advanced approach. We also got a lot of questions about the behavior of the separate PMAX shopping campaign.
The separate Performance Max shopping campaign behaves in a similar way as a Smart Shopping campaign. It serves Products Listing Ads on the Google search results page, and next to that shows the products in display ads (prospecting + remarketing). Here is an example of a Performance Max Placement report of a PMAX campaign that only has products as assets: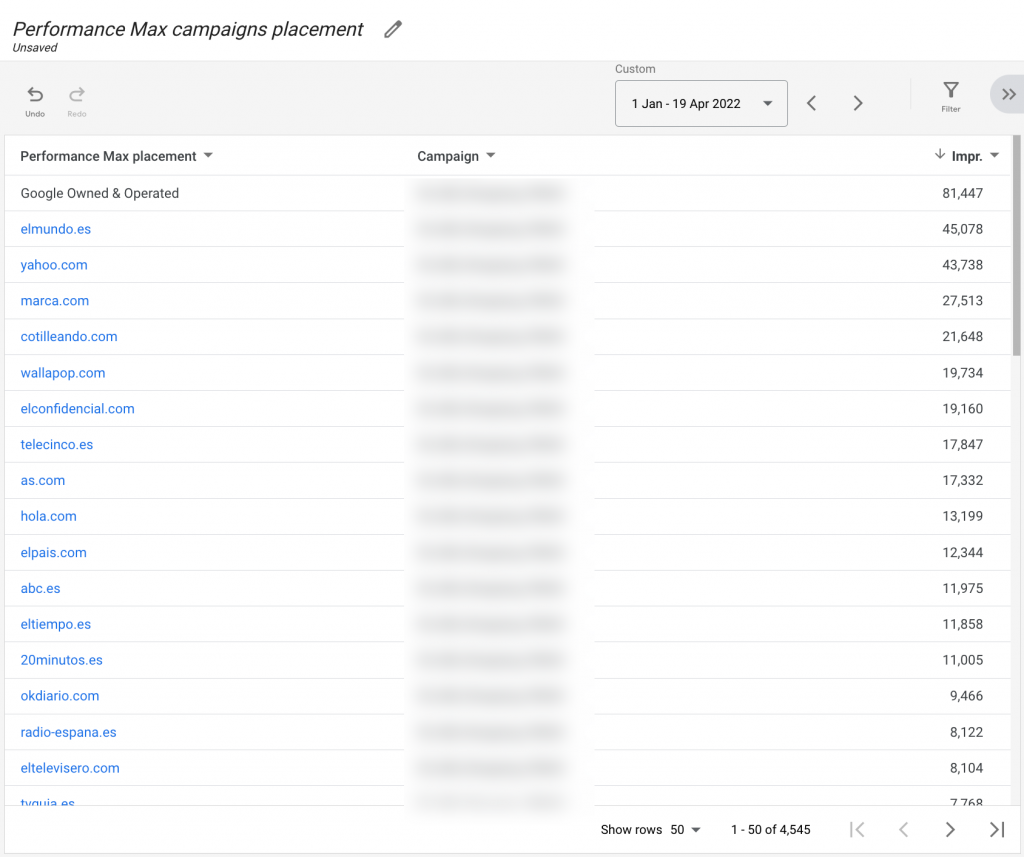 What you can see is that product ads also show as display ads in the Google Display Network and on Google owned displaychannels (Youtube, Gmail).
Conclusion: Performance Max is one of a kind, but there are ways to control the beast
In this article we covered the Campaign Structures for retailers using Performance Max campaigns. Since we are in an early stage of the launch of Performance Max campaigns, keep in mind these approaches are also early and not thoroughly tested approaches on how to keep the best balance between automation and control.
This new campaign type asks for new approaches. With the words of search specialist Mike Ryan: 'While keywords were the central logic of text ads, and products the central logic of Shopping, assets are the central logic of PMax.'
Next to structuring campaigns, what you feed the beast will become the thing that matters most. The internal structure and optimization of assets (product content, images, video's) and the usage of data like richer conversion data (returns, margin, LTV, etc.) or (first-party) audiencies, I expect to become a dominant aspects of campaign optimization.